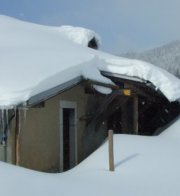 Dwight Peck's low-res photos
Farms of the Jura in winter
[The Jura mountains run in a southwest-northeast direction along the border between France and Switzerland, from Geneva (Genève) to Basel (Bâle), holding at about 1300-1400 meters altitude (4350-4500 feet), and peaking in the range of 1650 meters (5450 feet). These photos of high alpage farms in winter are mainly from the southwestern end of that range, between the cities of Geneva and Vallorbe.]
Petit Cunay
Petit Cunay lies just above 1500m on a broad shelf below and SW of the ridgeline between the peaks of Grand Cunay and Mont Tendre. This is a rainy Saturday, 10 March 2001.

The single-lane Route de Montagne runs upward in summer past Petit Cunay to the Swiss Alpine Club Cabane du Cunay one kilometer NNW at 1588 meters altitude.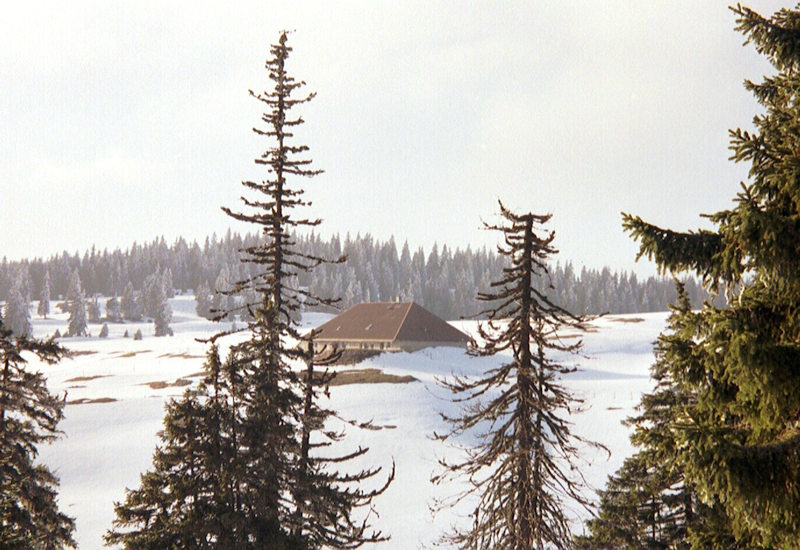 16 February 2002
Dr Pirri discovers that he is totally lost in the fog, again, this time near the farm at Petit Cunay, 14 March 2004.
From the forest to the east, 2 May 2004
Petit Cunay, 2 May 2004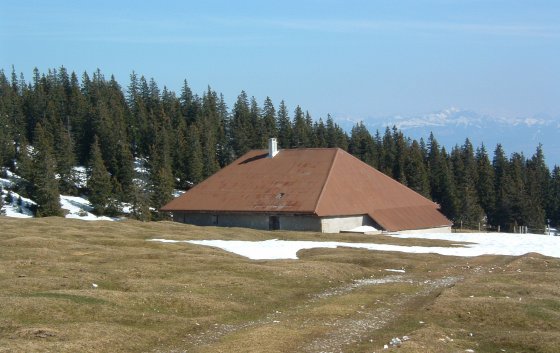 3 April 2005, snow almost gone already
---
From the Carte National de la Suisse, 25,000 scale: 1221, Le Sentier
---

Feedback and suggestions are welcome if positive, resented if negative,
. All rights reserved, all wrongs avenged. Posted 10 April 2001, updated 9 April 2005.