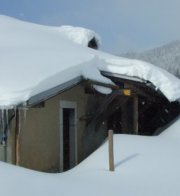 Dwight Peck's low-res photos
Tearoom de la Plage
[The Jura mountains run in a southwest-northeast direction along the border between France and Switzerland, from Geneva (Genève) to Basel (Bâle), holding at about 1300-1400 meters altitude (4350-4500 feet), and peaking in the range of 1650 meters (5450 feet). These photos of high alpage farms in winter are mainly from the southwestern end of that range, between the cities of Geneva and Vallorbe.]
---
The Tearoom is not a farm.
The Tearoom is also not a tearoom. And the plage is not really a beach.
The Tearoom de la Plage is a three-sided barbeque refuge on the bluff, at about 1320m on the farm road to Perroude de Marchissy, offering great views in good weather. Here it is on a blustery 9 April 2004.
The "Tearoom on the Beach", 9 April 2004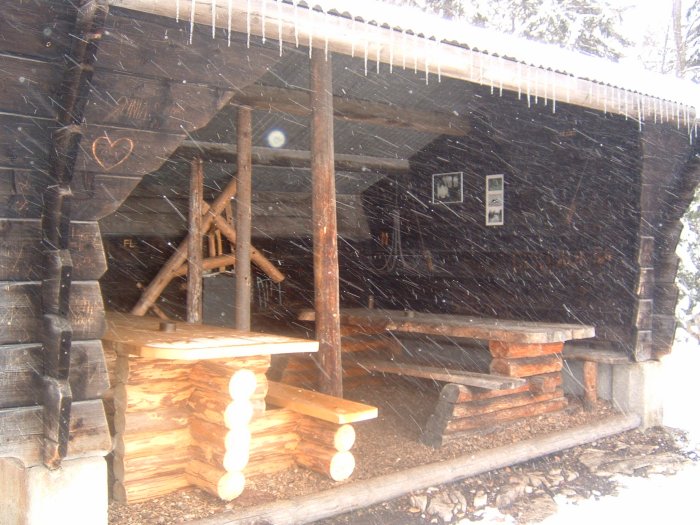 A very nicely-got-up picnic shelter with (sometimes) a clear view of the jet d'eau on Lac Léman at the port of Geneva.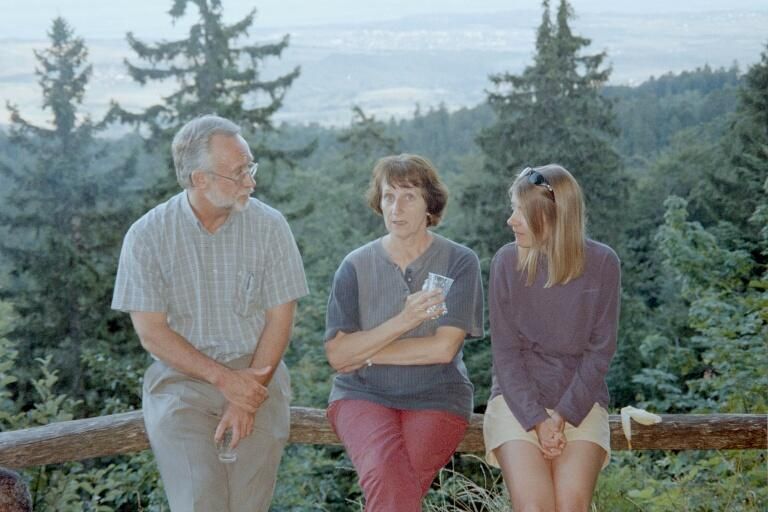 The Tearoom in better weather
Ammy (right) schmoozing with Chris and Annette at the Tearoom, August 2001, at a Ramsar Convention on Wetlands environmental picnic.
Ramsar picnic at the Tearoom on the Beach, August 2001.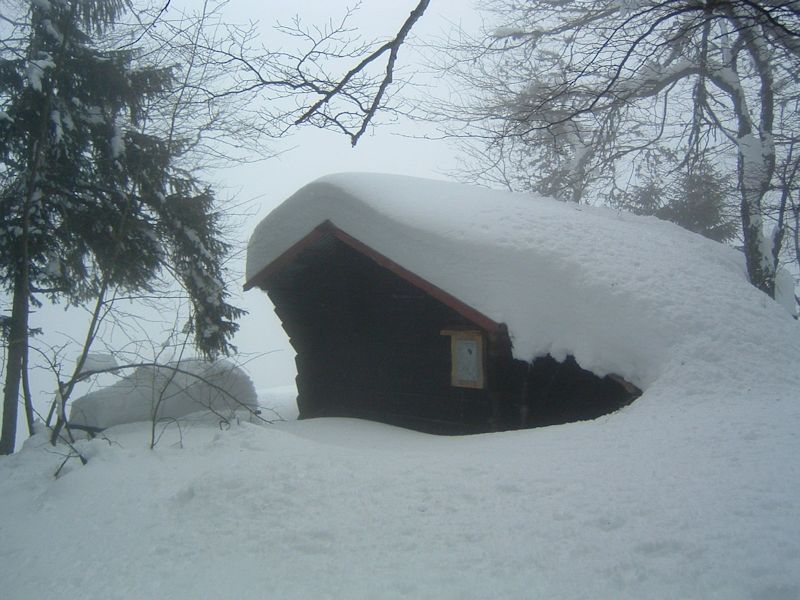 Here's the tearoom in a bit more snow, 9 February 2003, following Prof Durham's snowshoe assault on the cliffs below.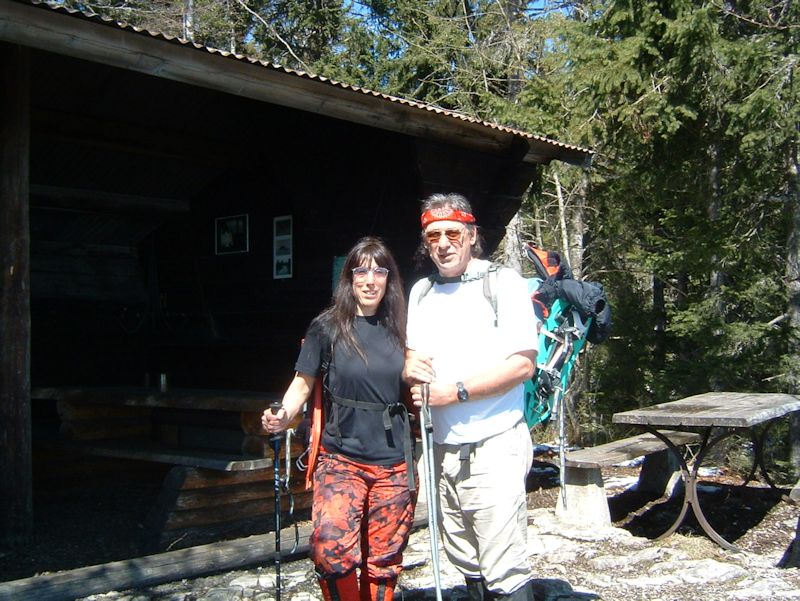 Here're Profs. Durham and Peck setting out from the Tearoom on still another hapless snowshoe adventure, 3 April 2003.

A map showing the Tearoom at the top of the cliffline (upper red dot), sort of looming over the trailhead near the village of Marchissy.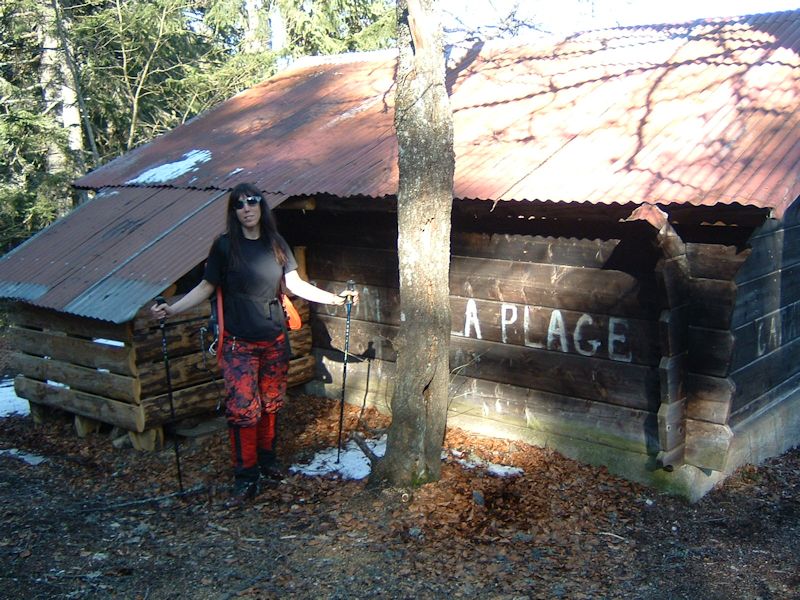 Lisa at the tearoom, 2003.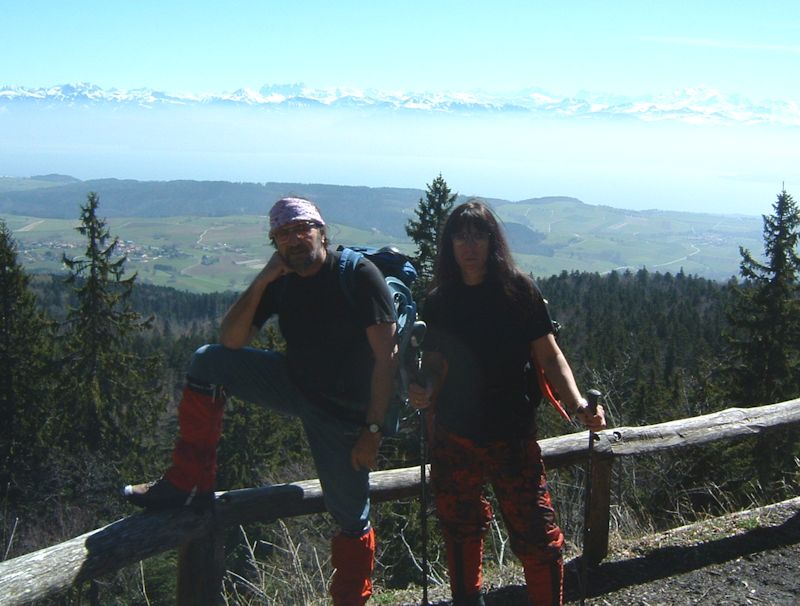 The view from the Tearoom de la Plage (if you pick a bad day)
The Tearoom de la Plage in early April 2008
Lisa at the Tearoom
Lisa heels up, April 2008
The snowless village of Longirod below, and the lake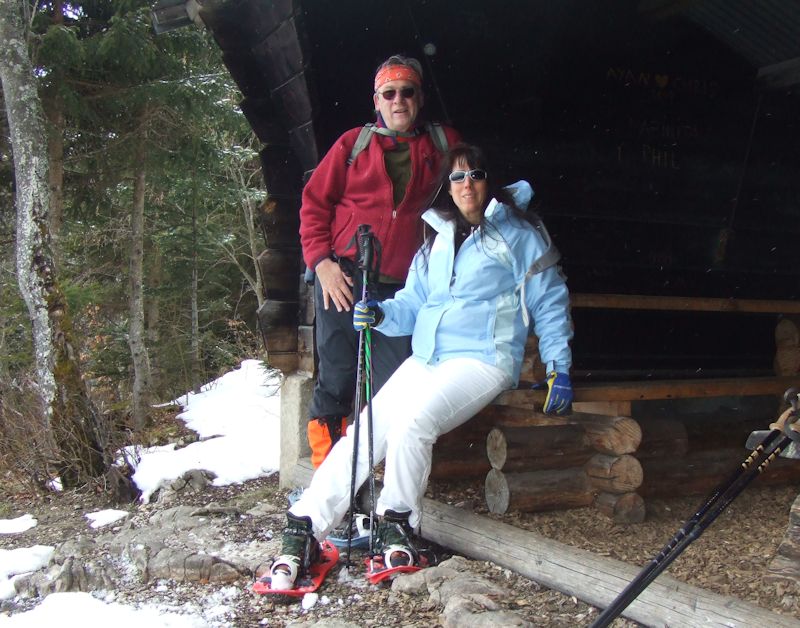 April 2008
---

Feedback and suggestions are welcome if positive, resented if negative,
. All rights reserved, all wrongs avenged. Posted 11 May 2004, revised 12 October 2008.