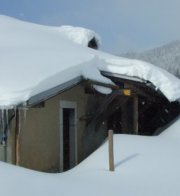 Dwight Peck's low-res photos
Farms of the Jura in winter
[The Jura mountains run in a southwest-northeast direction along the border between France and Switzerland, from Geneva (Genève) to Basel (Bâle), holding at about 1300-1400 meters altitude (4350-4500 feet), and peaking in the range of 1650 meters (5450 feet). These photos of high alpage farms in winter are mainly from the southwestern end of that range, between the cities of Geneva and Vallorbe.]
Prés de Joux
Beautiful Prés de Joux, a bright afternoon, 11 January 2003, at 1107m above Marchissy.
January 2003, before the big snowfalls of the year. The scratched out areas in the snow have been created by wild pigs, the sangliers, looking for stuff to eat, discretely, after dark. Mr Peck has never actually seen a sanglier in the wild (there are some humongous ones in the Zoo de Garenne in Le Vaud), but their "turf wars" on the top layers of meadow grass in the high pastures are everywhere to be marveled at and, perhaps, emulated when our pensions run out.
The farm at Prés de Joux -- what a fine January afternoon. Time for a little nap.
11 January 2003
The farm at Prés de Joux as one starts up into the forest above Marchissy, on the hiking path called the "Sentier du Coq".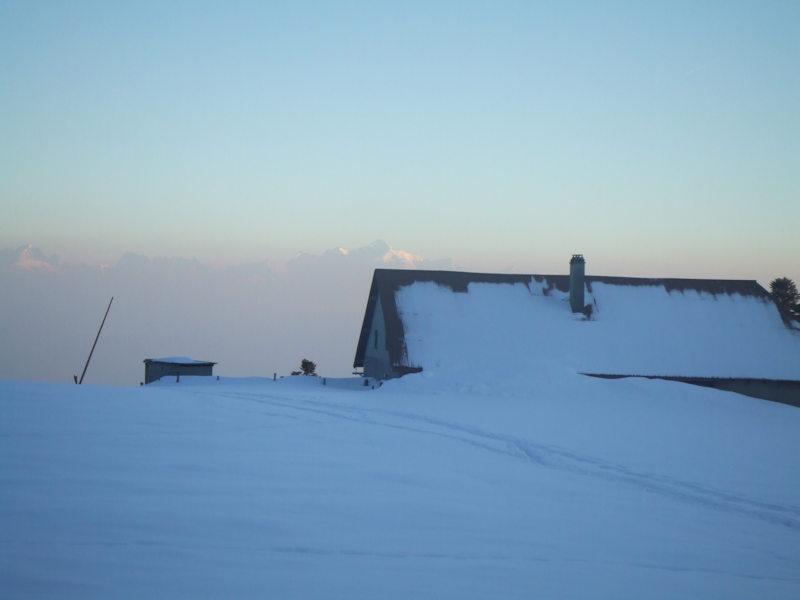 At nightfall, 11 February 2006, with Mont Blanc on the horizon
More photos of Prés de Joux, 1 and 2 January 2008
---

Prés de Joux, December 2000, several Pecks
---

Feedback and suggestions are welcome if positive, resented if negative,
. All rights reserved, all wrongs avenged. Posted 16 April 2003, updated 26 January 2008.