Dwight Peck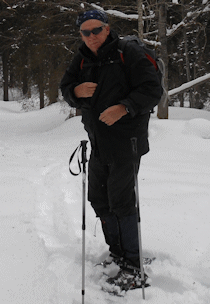 Dwight Clark Peck, Jr is a quiet, gracefully-aging gentleman who has managed so far to keep more or less out of harm's way.
He "grew up" in northern New Jersey in the United States of America, and whilst living in that country fetched up on two world record track-and-field relay teams at the University of Kansas and clutching a PhD in Renaissance Literature in Ohio. Not to mention an MLS master's degree in library and archival science in Rhode Island (and some other BAs and MAs -- eleven long years in university!). And he taught in universities, too, for quite a while, the History of Ideas of all improbable things, and 16th-century Renaissance Lit, along with lots and lots of Freshman English and Intro to Poetry, in Ohio, Oklahoma, oh where not? Uncountable late nights poring over nasty old books and microfilm readers, grubbing about amongst crumbly manuscripts in archives and public records offices in England, and rather a short bibliography to show for it in the end. Most of his research publications had to do with political propaganda and espionage in the 1580s -- a field in which no one could make a decent living even in the 1580s, let alone now. Shakespeare was his favorite subject to teach, until after a while he was embarrassed to discover that all the best bits made him want to cry.
Since he moved to Switzerland 40 years ago, Mr Peck has been dabbling at lots of odds and ends, but mainly playing about in the mountains. He was considered amongst his friends to be one of the better uphill afterwork nighttime skiers, inspired in the more extreme applications of telemark skis fitted with crosscountry bindings and sealskins on the bottom, with a couple of headlamps on. Getting back down was always trickier, naturally; but with his full share of broken bones he nearly always managed to do so. And lots of non-competitive snowcaving, just for the fun of it. And a lot of monster running, too, over the mountains and across the glaciers and down in the wooded dales, until in the end his knees went off to join the Long Fathers, so then semi-crippled walking-wise he worked for 15 years or so at less energetic hobbies like prancing about on snowshoes and looking for long downhills on his Scott mountainbike, called "Humvee", and his LeMond Tourmaley road bike called "Greg", depending upon the season. And for the future, well, on verra.
ACS. Mr Peck worked for many years at the American College of Switzerland, formerly an independent US-accredited liberal arts college located in Leysin, a ski resort in the Vaudoise Alps, and as Head Librarian he built the 50,000-volume ACS library from scratch.
La Tour de Famelon, circa 1983
And was Academic Dean from time to time when required. The American College went bankrupt in 1991 and lingers on only as a fond memory, though the building and the name were still being used, somewhat blasphemously, by a commercial educational fastfood chain, in disgraceful conditions, until in 2009 the Battered Old ACS finally left this earth. And his library sits up there on the mountain, with moss growing on it.
Leysin. For the nostalgic amongst us, here are some photos of Leysin village and surroundings circa 1979 and, into the bargain, mountain scenery all roundabout Leysin in the same era.
---
The Jura. In 1992, seriously unemployed after the College's passage into History, Mr Peck sold his chalet in Leysin -- SOB! -- and moved "to the valley!", in the Geneva-Lausanne axis (to Gimel, then to Trélex, then to Bassins near Nyon, and thence to Féchy). It's a comedown from the Alps to the Jura mountains, true enough, but the southwest Jura is not without its mountainy charms, and so now we've got an inexhaustible collection of photos of the local sites, including Jura farms in winter, caverns in the snowy forest floor, all to remind us that continuously good fun can be had almost wherever in this world you may be, as long as it's in Switzerland.
Update 2014: Goodbye to the Jura; we've moved back to Ollon near Aigle, just downhill from Leysin. And predictably, we miss the Jura sorely!!
Ramsar. Coming off a few years as Librarian of the American Library of Geneva, Mr Peck has since 1993 become an earnest environmentalist, toiling long hours in the casual uniform of Communications Officer of the Convention on Wetlands (Ramsar, Iran, 1971), or the "Ramsar Convention". Ramsar is the world's first global treaty for conservation and sustainable management of natural resources -- there are presently 169 nations that are Contracting Parties to the Convention, and its secretariat is housed with The International Union for Conservation of Nature (IUCN) in Gland, Switzerland. Some 2,242 wetlands round the world, over 215.2 million hectares' worth (2,152,000 km2), are presently covered by the Ramsar umbrella. Here's a brief history of Mr Peck's sojourn with Ramsar, and here is a link to the Ramsar Convention website, which ought to answer all of your swamp, marsh, bog, fen, estuary, coral reef, near-shore marine, and peatland questions or make you wish you hadn't asked.
Not that bad a job, warn't it; better than making munitions or cigarettes, or innovative fertilizers. Update February 2010: Mr Peck is now officially semi-retired, henceforward working 50% as Documentation Officer, preparing official documents and publications. Update January 2014: Mr Peck, Ramsar-wise, is now a semi-interested member of the public, trusting that the Ramsar Secretariat, with its new Secretary General, can get back into the game, after a gumbo decade.
And that's that! Retirement. Not half as bad as advertised. In fact . . . when the sun's out on the patio, and we're nodding off with an improving book, this is pretty close to what we've been waiting for, for a very long time. Update May 2015: Uh oh, we're going back to work, at the 12th meeting of the Conference of the Parties to the Ramsar Convention, late May to mid-June, in Punta del Este, Uruguay. Just when we were getting settled in on the patio. With our improving book. Update November 2015: Well, that new SG's gone already, but the same best wishes for the next new Secretary General. In the meantime, Mr Peck works on demand for the only first-rate Secretary General Ramsar ever had, Mr Blasco, who's now the Coordinator for the Mediterranean Wetlands Initiative (MedWet) in the Camargue wetlands in France.
Neat kids
Here's Kid One: Alison was living in Chile, where she was the Deputy Project Scientist building the Atacama Large Millimeter/submillimeter Array project (ALMA); thence to the HQ of the National Radio Astronomy Observatory in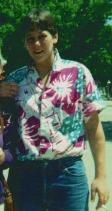 Charlottesville, VA, USA; and newly with Mark back to the observatories on Mauna Kea on the Hawaian Big Island.

Kid Two: Deirdre is no longer with us, but when she was, she was the greatest.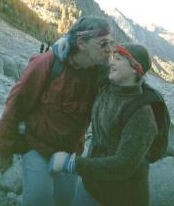 We won't even try to describe what she was like. For more pix, click on the photo here.
Kid Three (left): Marlowe spent her first decade in Switzerland, then lived in England for three & a half years and came to visit every other weekend throughout that time. Thence to the USA, and as soon as possible afterward, off for university to Canada, where some years later she consorts with Dima and Young Bill and visits us every summer.

---
---
---
Recent events
such as they may be (reverse chronology)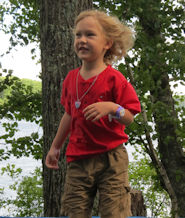 Summer 2016. In the shadow of the embarrassing US election campaigns. Following an invigorating 10 days in the Lago di Garda region, based in Sirmione with daily side trips, in mid-May, we were pleased to squeeze in a brief visit to Colmar in the Alsace region in early June, and then in early July to follow Kristin on to the USA for our annual frolic on the lake in northern Wisconsin. We met friends Mark and Nancy for some sightseeing on the Garden Peninsula in Michigan's Upper Peninsula, and then joined wetland enthusiasts for a study tour of the Madison Aububon's Goose Bay Sanctuary, with our guides Mark and Sue Martin, and the Horicon Marsh Wildlife Refuge, with conservation management explanations by representatives of the Wisconsin DNR and the US Fish and Wildlife Service. And finally Marlowe and Dmitri escorted Young Bill down for a good long spell of raft-jumping, trampolining, and hydrobiking.
Winter 2015-2016. Some Italian travels. After a few scenic autumn walks around home, we've been off for some November sightseeing in the Italian Umbria region, with a stop in Piacenza on the drive down; based in hillside Gubbio, we managed daytrips to Assisi, Urbino, and Perugia, with some walks in the hills as well. In December, we investigated the huge Fort Bard in the Val d'Aosta, with sidetrips to Ivrea and Turin, but Parma in Emilia-Romagna is so stuffed with things to see that we spent our February week in place. After some springtime snowshoeing, we visited the Lago di Garda region, based in Sirmione on the lake, with day trips to Verona, Vicenza, and Mantua, including three Castelli degli Scaligeri, and a look-in on Casale Monferrato on the way home. But we missed a lot more towns and need to go back as soon as possible.
Summer 2015. Mainly Western Hemisphere. Lots of Italy, France, etc., over the winter and spring, but now we've been spending a little time on the farther side of the earth. In late May and early June we touristed around in Montevideo, Uruguay, and then settled down for two weeks of bureaucratic hijinks in the resort of Punta del Este for the 12th meeting of the Conference of the Parties to the Ramsar Convention on Wetlands on a consultancy contract, where Kristin got to see lots of sea lions, penguins, and what not. From early July onward, we were sojourning, as usual in recent years, on the lake in the Wisconsin Northwoods, visiting the new Ramsar Site on the Door Peninsula with the Wisconsin Wetlands Association, lake-patroling for the invasive weed purple loosestrife on hydrobikes, and being entertained by daughters Alison and Marlowe and their near relations Mark, Dmitri, and Bill. Then home in late September. It was all good.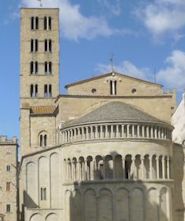 Winter 2014-2015. Catching up on our sight-seeing. What with one thing and another, we haven't been able to romp in the snow very much at all this winter, but we found good uses of our time anyway. After a quick getaway to Aosta and the Valpelline over the Grand St-Bernard Pass in late October, we squeezed in two weeks in November based in Lucca in Tuscany, with day trips to Pistoia, Prato, San Gimignano, and Volterra, and a look-in at Asti and Turin on the road to and from. The Christmas season was devoted to southern France, based near Montpellier with visits to Aigues-Mortes, Sète, Agde and the Camargue wetlands on the Mediterranean coast, as well as Béziers, Arles and Nîmes, and New Year's Eve in Meyruis in the Tarn Gorges system. We got in two weeks in February and March based in Arezzo in Tuscany, with day trips to Siena, Cortona, Castiglione del Lago on Lake Trasimeno, and the historic Castello di Poppi, with a few days in Pavia in Lombardy on the way down, Cremona on the way back. We've got a year's pass for the Grand St-Bernard tunnel and a comfy carrier for Squirrel, the amenable cat, so northern Italy is very doable these days.
Summer 2014. Cold and rainy (but that's okay). Settling nicely into our new digs in Ollon and, throughout the spring, scoping out the good walks in the region, in late May we scored a week in wonderful Bologna, with a side trip to Modena, and then joined friends Cathy and Oscar for some hiking around Grindelwald, under the blank stare of the Eiger Nordwand. After a little more local hiking, with Kristin already in the USA, then from mid-July onward a blissful daily routine on the Wisconsin lakeside plowing through massive history books in the mornings, hydrobiking and canoeing all round the lovely lake, and joining Kristin's clan for convivial group dinners nearly every evening. A high point was a study tour with the Wisconsin Wetlands Association of the Penokee Hills watershed and the Bad River Sloughs Ramsar Site in the Chippewa reservation on Lake Superior, which are threatened by a strip mining project assisted by political corruption. Daughters Marlowe and Alison joined us for more lakeside fun, accompanied by their pals Dmitri, William, and Mark. And then a road trip with The Squirrel past Starved Rock in Illinois, a museum in Cincinnati, a look-in at Pittsburgh, some quality time with old friends Mark and Nancy near the Delaware Water Gap, and then a relief to find that we still haven't been mistakenly put on the mysterious No-Fly List at the airport in Washington, D.C. And so to home.
Winter 2013-2014. The Big Move. First, some semi-aimless hiking about in the early snow in the Jura, and then in December a few weeks in the Lago di Garda region, in Trento, Bolzano, and Brescia. Then some exceptional snowshoeing in January and February, all the while packing up for our Big Move to Ollon VD, at the farther end of Lake Geneva. And then, in March and April – unpacking and settling in, missing the Jura sorely, but blessed to be back in the Préalps.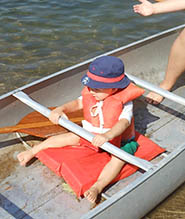 Summer 2013. Gracefully aging. As the semi-retirement regime finally begins to phase over into retirement veritably, we're not finding any difficulty in spending our newfound leisure time. None at all. Coming off a late spring (with snow in the Jura through to June), we spent some time in Ferrara and Ravenna in May, puttered about unproductively in June, and then took off for the USA for even more relaxation, reading in the sunny afternoons, puttering about on a variety of watercraft, and some plays in Spring Green. Alison and Marlowe visited us in Wisconsin, the latter with Dmitri and Young William, and Lowell and Sheila came for some hiking in the Porcupine Mountains. Following all which, we spent some time with Alison and Mark hiking and sightseeing around Charlottesville, Virginia, and Shenandoah National Park.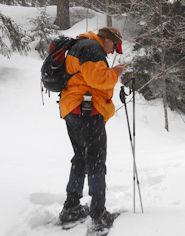 Winter 2012-2013. Blessed by snow. We'd got into the semi-retirement habit of traveling touristically whenever, in the Inhofe era of Global Warming, the snow in the Swiss Jura mountains was absent yet again. This year, all the snow came back. And we kept traveling as well anyway. Young William came for a visit in
October, chaperoned by his mom Marlowe, and we seized the opportunity to introduce him to some of Marlowe's old favorites, chiefly the Châteaux of Chillon and Gruyères and hiking in Leysin. In November we went down to visit Toledo, Spain, for some days, with a stopover in Madrid for the Prado. The first snows came to the Jura at the first of December, but we were already booked to spend most of the month touring about Sicily, with comfortable stops in Palermo, Agrigento, Ragusa Ibla, Syracuse, and finally Erice and the west, with a good deal of time spent searching out the film sets of the Commissario Montalbano series. Then ensued a blissful two months of wandering all over on snowshoes, with a touristic interlude in Lyon, France, and then another three months exploring the forests and watching resentfully as the snow finally deliquesced, as one day we all will ("Where are the Snowdens of yesteryear?"). Somehow we managed to fit in a ten-day excursion to Ferrara and Ravenna in northern Italy as well. Despite the truly horrible things going on throughout the world in this and recent years, we had a great time.

Summer 2012 in the year of Climate Change. After a long few weeks in Bucharest, Romania at 40ºC in a cubicle in the Palace of the Parliament (a.k.a. the "House of the People"), stepping and fetching for the world's governments at the 11th meeting of the Conference of the Contracting Parties, we slithered off to northern Wisconsin for two months of canoeing, low-key partying, a little Shakespeare as opportunities arose, and restive mornings preparing the published results of . . . the 11th meeting of the Conference of the Contracting Parties.
Winter 2011-2012. Better and better. Waiting for the snow has always been a fretful chore, but these days there's still less reason to be optimistic. So we transposed ourselves to the Boot of Italy for a few weeks in October with Rob and Elke, with look-ins at Bari, Matera, the Castel del Monte, Altamura, Melfi, Lecce for a while, Galatina, Otranto, and Ostuni (and back to Rome). (It's Thursday, this must be Galatina.) Still no snow in November – so we went to the Lago di Orta, poised to visit the Artemisia Gentileschi exhibition in Milan and the spooky Sacri Monti on the hilltops. Still no snow, ha ha, so we went to Andalucia for a few weeks before Christmas, chiefly Granada, Alhama, Córdoba, and Sevilla. The snow finally came in January, not a lot of it, but enough to make it worth putting the snowshoes on. In February, we got to spend some time in Genoa and Savona, then back to the snowshoes, then Chartres and Le Mans in France for a week in April, with a couple of side trips to catch up with culture at the Louvre. And now here we are, wrinkling with dread about our huge meeting of the governments in the "Palace of the People" in Bucharest in July.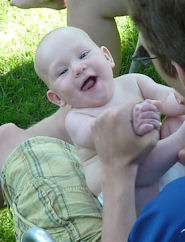 Summer 2011. The younger generation! Always a disappointment, what are young people thinking these days! Walking round half naked, mumbling a lot of hip nonsense, enigmatic stares and inappropriate laughs out loud (though not actually 'walking round' yet) – we were all better behaved in my day. As I recall. Anyway, we moved to the village of Féchy (that was an adventure), then spent most of the summer in the Northwoods, entertaining and being entertained by Young William and his handlers Marlowe and Dima, and then entertaining and being vastly entertained by Lowell and Sheila, after too long an absence. Then back to Féchy for the wine festival, and that's the lot for the summer of 2011.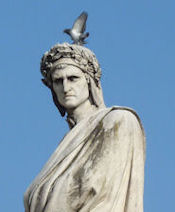 Winter 2010-2011. Our winters are nothing like what they once were. The Gods of Climate Change taunted us with much more snow than we've had in years in early December, and then They just went away. So mostly, we just traveled instead; that's good, too. A comfortably long spell in the Naples subregion in October and November: Ravello, Capri, and a week or so in Naples with side trips to Paestum, Pompeii, Herculaneum, and smelly Solfatara. Followed by some time in Colmar in the Alsace. A ton of snow then, late November and early December, more snow in one night than the Geneva airport has seen since 1982; oh, lovely. Long working hours over December and January, just as well though, with no more snow at all and no Kristin. But in early February Kristin was back and we were down for two weeks in Florence, blissful in the off season, Pisa, and Mantua, and then in early March, some time walking all around Strasbourg's old city. It's been a successful winter for collecting photos of statues of Dante. And the snow never did come back.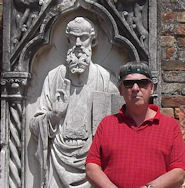 Summer 2010. Settling into desuetude. Venice, Bride of the Sea, harbinger of the acqua alta we'll all be seeing a lot more of everywhere soon – the city's always been a favorite tourist stopover among our circles, but now, semi-retired, we get to take our time and break out of the Rialto/San Marco axis. A week ambling about the Lido, Chioggia, Torcello, Burano – all worth the time and the bus fare. And with La Donna Partigiana. And a Night at the Opera. MOST of the summer, though, got spent basking at Kristin's in Wisconsin Northwoods sunlight, when it appeared from time to time, boating about, hiking with Alison and Marlowe and friends in the Lake Superior mountains, checking in for work from the Secretariat that seldom came, chasing down distinguished Wisconsin micro-brews, and stopping in to see Marlowe and Dima in Ottawa on the way back Europeward. Semi-retirement is beginning to agree with us.
Winter 2009-2010. Leisure requires discipline. Or not. This is the year we've been yearning towards for the past six decades, give or take. On 1 February, we officially went into retirement after a long, varied, rewarding, undistinguished career. Sort of. Henceforward, we're on a flexible half-time schedule at the Secretariat, working on documentation, publications, and rapporteuring major meetings. We got the winter season underway with Alison's and Kristin's visits in a snowstorm at Tanay in mid-October, and then I and MY WIFE (newly) soared off for our nearly-annual coastal hiking in Cornwall and Devon. Subsequently, MY WIFE came back to spend the Christmas season with some excellent coastal walking in Corsica, and then in February, newly semi-retired, there was another splendid visit to Rome, once again with MY WIFE. Rainy spring hiking and a lot of political blog-reading when I should have been working-from-home ensued, till finally the whole Secretariat took off to Georgia in late April for a big meeting, and MY WIFE came along with us, with a stopover in scenic Istanbul. Next week, MY WIFE's coming back to get the summer season off to a good start.

Summer 2009. Things are looking up again. After a convalescent springtime, we rolled into the summer in the middle of a nasty project at work, migrating Web sites with not much idea of how to, so when Kristin showed up in early June, we downed tools and went off to southwestern France for a couple of exploratory weeks, based in Salers in Auvergne and in Bourdeilles in Périgord, in one of the world's most wonderful places. Two midsummer months ensued with our nose to the grindstone/keyboard, racing pell-mell, with our poet's eye in fine frenzy rolling, glancing from DreamWeaver heaven to "content management" earth, from earth to heaven, and not much sleep, to complete the nasty project (more or less) and rush off to go get married in Wisconsin. Well, that went very well. But now we're back here at the keyboardstone trying to clean up that still nasty project. But Kristin's coming along next week for some October coastpath hiking in Devon, so that's the good news, but it's going to make the nasty project seem even nastier in the meantime.
Winter 2008-2009. The best snow we've had in the Jura in a decade, and we nearly missed it. A great sigh of relief, and some protracted moaning, in early November 2008 as the Highlight of our Triennium, the 10th Meeting of the Contracting Parties to the Ramsar Convention on Wetlands, went off swimmingly in Changwon, South Korea. An exhilirating experience, all in all, and we got to learn a little about Korean culture as well, especially the fabulous mall adjacent to the convention centre. Kristin came along in November for a fortnight of castle-hopping in southwestern France, principally near Sarlat and Carcassonne, and discovering the cassoulet! But: then ensued a few medical issues -- fewer adventures in the most copious blanket of snow we've had in Switzerland in many, many years -- which brought Kristin back to Europe to make the chicken soup, with some days on Lago Maggiore in northern Italy for the sun and some walking tentatively about. Alison and Mark visited from their astronomical observatory in Chile for a few days in early April, a treat as always, and for the rest of the snowshoeing season, we were back on the hoof again with increasing vigor and enthusiasm.
Summer 2008. One of the best yet (but we always say that). I counted only one day above 30°C (86°F), when we had to put the big fan on in the office and blew all the papers off the desk. This is the year of the Conference of the Contracting Parties, coming up in South Korea in late October, so we're repairing grammar and aligning fonts and margins pretty much nonstop throughout the year, but we've snatched away some wholesome fun nevertheless. Kristin was here in May, and along with a little hiking about and sightseeing we got to spend some more time dashing around Rome (Italy) [Vatican museum, photo left] viewing improving cultural things and eating. Once the July deadlines were got over, Kristin came back in August for some long hikable weekends in the Bernese Oberland, first at the Pension Sonnenberg above Mürren over near the Eiger and Jungfrau and what not, and then at the Rosenlaui berghotel above Meiringen, also not too far from the Eiger, the Jungfrau, and what not. Now, just a little documentary torture for a few months and a kind of catatonic frenzy in Changwon, South Korea, for two weeks, and with any luck we'll be back here scanning the skies for snow by mid-November. And perhaps, with 25 leave days left for this year, some traveling as well.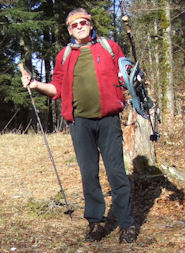 Which way to the snow?
Winter 2007-2008. After a bad snow winter last year - a bad snow winter. Just back from visiting Kristin in Boston and hiking all over the coast of Maine in October, we're welcoming Kristin again in late November for an excellent week of hiking all round the beautiful island of Corsica, as well as a look-in at the P'tite Auberge at the Lac de Taney for some exceptional snowshoeing and dinners. Then good snow, and Christmas in Ollon with the Doctors Durham, and some more good snowshoe explorations in early January. Then . . . then, alas . . . Pres. Bush's Global Warming kicked in with a vengeance, in western Switzerland anyway, and the Jura hiking, though beautiful as always, was not snowy. In a month-long break between two big meetings at work, Kristin came in February for a bronchitis revisit to the Lac de Tanay and a long weekend in fascinating Bergamo. Then, finally, and evidently to celebrate Easter, God kindly dumped a ton of snow on us - more fun for the long weekend in late March than you could shake a taser at - but a fortnight later, it melted. Alison, in Europe for meetings, came in from Chile in late April, and Kristin has come back for much of May, with some of that in Rome again, where I'll be joining her tomorrow. Now, loins are being girded for a reluctantly workaholic summer and the giant 10th meeting of the Conference of the Contracting Parties in South Korea in October-November.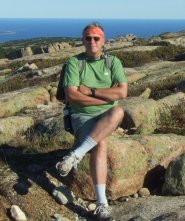 Summer 2007. Exceptionally privileged. Northern Europe was all flooded and cold, and Spain and Greece were burnt nearly to a Mediterranean crisp, but in Switzerland there has never been a finer summer, if you're a fan of sunny cool days with a fresh breeze. People who love trickling with sweat lying on beaches were very badly served here, but Anti-heatists basked, with scarcely a few days above 30°C (86°F). Following on from a wandering-about hikey sort of trip to Ireland in April, it was back to work for a while, until from mid-June the Social Whirl became dervishish. Marlowe, newly graduated from college in Canada, forsook her Dima for three weeks so that we could revisit some of her favorite castles from the old days, and then Kristin neatly overlapped with her for a few days in early July -- leading on to a visit to the Lac de Salanfe with Joe and Teny and several days chasing all round Prague. Alison showed up from Chile in mid-September -- Kristin was meant to visit, too, in late September, but by the time we got round to booking the ticket, the best airfare from Boston to Geneva was twice the price from Geneva to Boston, which settled that question. So we got in a rewarding week on the coast of Maine in the USA, hiking on Mount Desert Island in Acadia National Park, and suffered through the late stages of Boston's horrific heat spell in early October for a week.
---
Special Features
Farms of the Jura. A photo series on the communal farms of the Swiss Jura mountains in the dead of winter -- growing like Topsy, some 75 or 80 wintry farms up now, and only one taken down because of a private-property owner's concerns about increased littering on the premises.
Holes of the Jura. The Swiss Jura, in the Mont Tendre region, is made largely of limestone and in many places has washed out in dark holes and chimneys small, medium-sized, and frequently gigantic. There's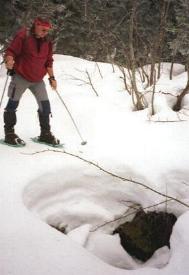 great sport to be had in seeking them out in the snow, darting up close for a snapshot, and backpedaling frantically, giggling in triumph. The Grand Search for Holes. [gazing in fascination into a hole, photo left]
Mountain photos on this Web site. An unassuming index to this website's photos of undramatic but nonetheless beautiful mountains in the Préalps and Jura of Switzerland and, to a lesser extent, elsewhere. Forty-odd mountains so far and still counting.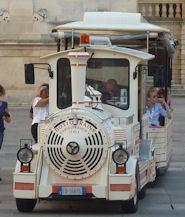 Snowshoeing in the Jura. Rudimentary lessons on how to go about enjoying this popular winter sport, and mainly on how not to.
Tourist trains of Europe. Spotting the ubiquitous Dotto Trains from Italy, and the more elusive Tschu-Tschu trains from Germany, in the fashionable tourist destinations all over Europe. Clang clang.
Steamships of Lake Geneva (Lac Léman). The fleet of eight "Belle Epoque" lake steamers and assorted other vessels, on Lake Geneva and selected other lakes elsewhere. Climb aboard.
Anthills of the Jura. The BBC cares, and maybe we all should! Here are photos of some of the most alluring anthills in western Switzerland, which tops all of Europe for its wood-ant anthills. Much more formidable ones in Uganda, though. Dig in.
Forest refuges of the Jura. Photos and descriptions of a bunch of little one-room huts stuck out in the forest, good to memorize in case you twist your knee someday out there whilst hiking along dreaming of your future career triumphs and not watching where you're going. Crawl in here.
Various travels. Despite exceptionally strong instincts towards gazing for long hours off the balcony at Swiss scenic vistas with a chilled bottle of beer firmly in hand, from time to time Mr Peck has been gratefully dragged away to other venues. Selected travels and visits since about 1980.
Physiognomy (Herr Peck's and a few others). An essay on faces and what they sometimes reveal or don't. (And Kristin's as well.)
---
Something else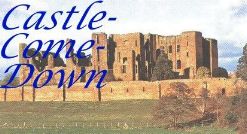 Big story. Castle-Come-Down - faith and doubt in the time of Queen Elizabeth I. Rather a lengthy tale of nasty court politics in England in the 1570s and 1580s and, in France, espionage, murder, and general mayhem in aid of Mary Queen of Scots and/or the Spanish Armada. It's a "true story", too (right!). Illustrations included in the Web version (not in the 1.7mb PDF). Advance to the index page (no credit cards or adult authentication required).
---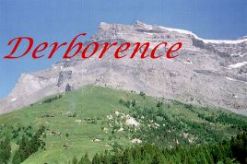 Slightly smaller but still pretty big story. Derborence - a new translation (by Dwight) of Charles-Ferdinand Ramuz's classic tale (1934) of peasant life in the Swiss Alps in the 18th century, when the back half of the Diablerets mountains fell off and buried all of the summer high-mountain livestock grazers -- but, months later, one of them came home! And then went back! The great plan was to illustrate the story with lots of evocative photos of the place today, but for the moment the haunting Ramuzian prose will have to suffice. This is a must read for all sentimental mountaineers, nostalgic peasants, and unashamed poetical spirits who admire family values and ghostlike apparitions. Advance to the Intro page.
---
---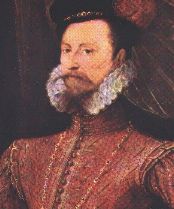 Quite a few more stories, some perhaps semi-true. Robert Dudley (1532?-1588), Earl of Leicester and Queen Elizabeth's long-time favorite, was the subject of scandal from the very beginnings of the Elizabethan era in England (1558-1603). Study of the black legends surrounding his life, times, and putative crimes provides insights into the political, social, religious, and administrative history of Britain and lots and lots of furtive and ribald fun. Mr Peck spent many pleasant hours pursuing these matters and writing up his results, quite a few years ago, and somewhat later, scanning them and posting them all here. At least all of them that can still be found under piles of NYRBs and behind the sofa cushions. Here is a menu of 16th century diatribes, libels, and screeds, parental guidance encouraged for some of them.
---
---
Q.: Do you know why you're here?
A.: No, I'm afraid not.
Q.: Well, do you have any questions then?
A.: No. Can't really think of any.
Dwight Peck, Switzerland
(, www.dpeck.info)
Last updated, 26 June 2017
The view from home, 2016