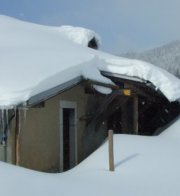 Dwight Peck's low-res photos
Farms of the Jura in winter
[The Jura mountains run in a southwest-northeast direction along the border between France and Switzerland, from Geneva (Genève) to Basel (Bâle), holding at about 1300-1400 meters altitude (4350-4500 feet), and peaking in the range of 1650 meters (5450 feet). These photos of high alpage farms in winter are mainly from the southwestern end of that range, between the cities of Geneva and Vallorbe.]
La Genolière
La Genolière lies at 1348m on the single-track farm road that leads up from the Col de la Givrine northeastwards to Le Vermeilley and beyond.
This was taken on a snowy 16 April 2005, walking up out of the Grande Combe.
It's too late now for this year, but the farm of La Genolière lies at the conjunction of the crosscountry ski track from Givrine into the hinterlands as far as Marchairuz, and beyond, and the packed-down walkers' trail to the restaurant montagnard at Le Vermeilley -- just when folks are getting a little thirsty and peckish, so there's a very nice buvette here in the depths of winter.

---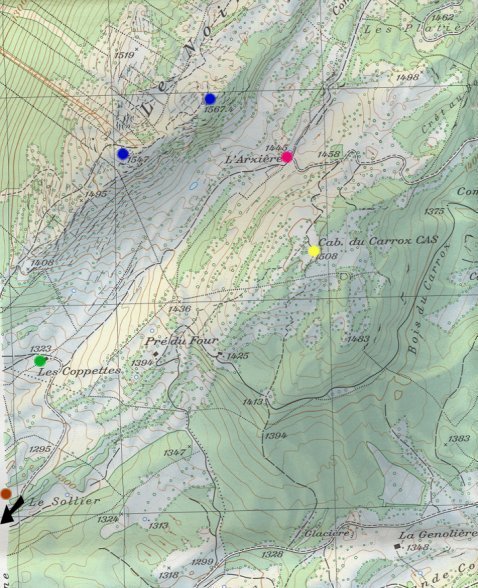 From the Carte National de la Suisse, 25,000 scale: 1241, Marchairuz
La Genolière is at the bottom right.
L'Arzière is the pink dot.
Les Coppettes is the green dot.
Le Sollier is the brown dot.
Le Noirmont's two little summits are blue.
The Cabane du Carroz is a yellow one.
---

Feedback and suggestions are welcome if positive, resented if negative,
. All rights reserved, all wrongs avenged. Posted 14 May 2005, revised 4 October 2008.