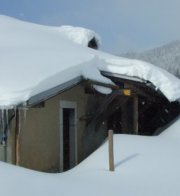 Dwight Peck's low-res photos
Farms of the Jura in winter
[The Jura mountains run in a southwest-northeast direction along the border between France and Switzerland, from Geneva (Genève) to Basel (Bâle), holding at about 1300-1400 meters altitude (4350-4500 feet), and peaking in the range of 1650 meters (5450 feet). These photos of high alpage farms in winter are mainly from the southwestern end of that range, between the cities of Geneva and Vallorbe.]
Les Echadex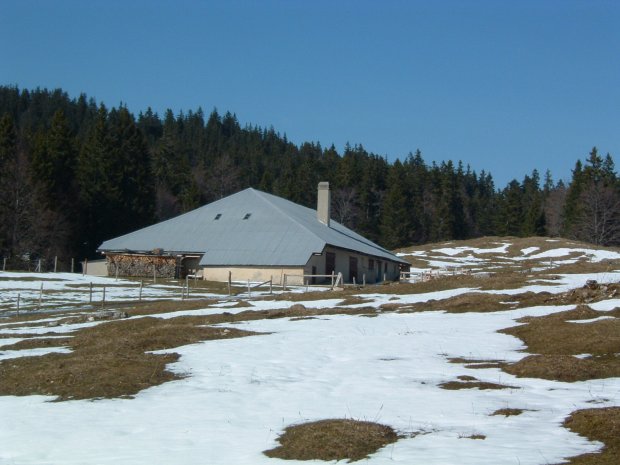 Les Echadex is found at 1365 meters on the summer mountain road leading from the village of Marchissy up to the Perroude de Marchissy, which lies on the Chemin des Crêtes transjurassien hiking trail southwest of the Col du Marchairuz and the Crêt de la Neuve. April 2003.
9 April 2004, an exhilirating but dreary day, approaching Les Echadex up the long meadow from the southwest.

Looking southwest, towards Perroude du Vaud, April 2004

Les Echadex commands a long SW-NE combe which lies in a sort of plateau between two steep areas on the front of the Jura. The limestone terrain forms an interesting complex of steep-sided and rocky little valleys, very easy to get turned about and lost in.

Passing Les Echadex, 6 March 2005

3 February 2008

February 2008
---

From the Carte National de la Suisse, 25,000 scale: 1241, Marchairuz

The yellow dot indicates Les Echadex.
The red dot indicates Les Frasses.
The blue dot shows La Neuve farm.
The brown dot indicates Perroude de Marchissy.
The green dot shows Petit Prés de Rolle.

The farm of Les Echadex (1365m), 1 April 2010

The farm of Les Echadex, as we go off the other way, with a wonderful glistering sunlit drifting of snow coming down on us

The pastures of Les Echadex are narrow and extremely long

Very extremely long
A discussion of Kant's categorical imperative near Les Echadex, April 2003.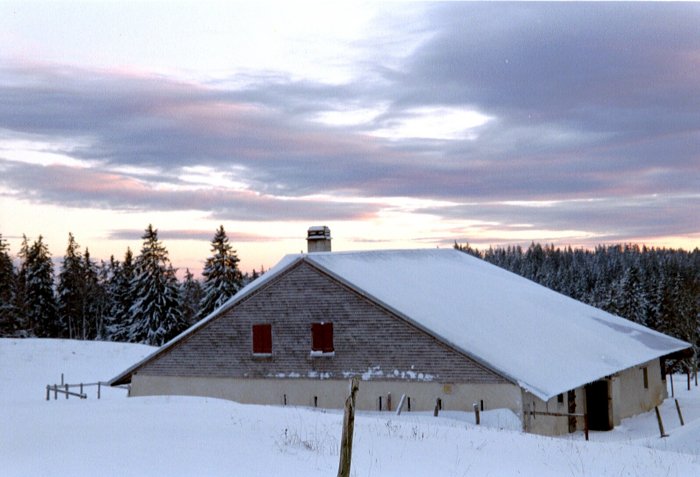 Les Echadex farm late on a blustery cold day, 16 December 2000.

Staring aux Echadex, 2005
---

Feedback and suggestions are welcome if positive, resented if negative,
. All rights reserved, all wrongs avenged. Posted 26 February 2001, revised 14 April 2010.