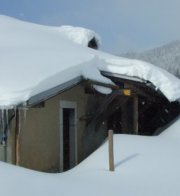 Dwight Peck's low-res photos
Farms of the Jura in winter
[The Jura mountains run in a southwest-northeast direction along the border between France and Switzerland, from Geneva (Genève) to Basel (Bâle), holding at about 1300-1400 meters altitude (4350-4500 feet), and peaking in the range of 1650 meters (5450 feet). These photos of high alpage farms in winter are mainly from the southwestern end of that range, between the cities of Geneva and Vallorbe.]
La Dunanche
La Dunanche lies at about 1120m not far off the paved road from the highest village, Bassins, to its alpage La Bassine, on a plateauey sort of thing above the 1100m cliffs. This was taken on 23 March 2008.
The same, with the Fuji zoom on
The farm of La Dunanche nice and perky and bright on 9 March 2003, approached from up through the cliffs above Le Jubillet.
Another view, 9 March 2003.
Compare snow years -- this is 9 March 2003. See 11 March 2006 below.
Heading on down to the northeast late in the day, headed for Bassins.

Late in the day, 9 March 2003

From the eastern corner of the meadows

Snowstorm, late in the day, 11 March 2006

11 March 2006

---
From the Carte National de la Suisse, 25,000 scale: 1241, Marchairuz
The red dot indicates La Dunanche.
The blue dot indicates Le Bugnonet.
The yellow dot indicates La Chaumette.
Some chamois munching obliviously, 28 February 2004.
12 March 2006
La Dunanche, with La Dôle behind, 19 March 2006
The view of La Dunanche farm (1117m) to the southwest, 2 February 2008
La Dunanche, with La Dôle in the distance
A very pretty tree, with the farm on the far side of it. Still no snowshoes needed. In February!
La Dunanche, with La Barillette television towers on the horizon
A little touch of Appalachia, right here in Switzerland. No 1950s automobiles up on cinderblocks, though.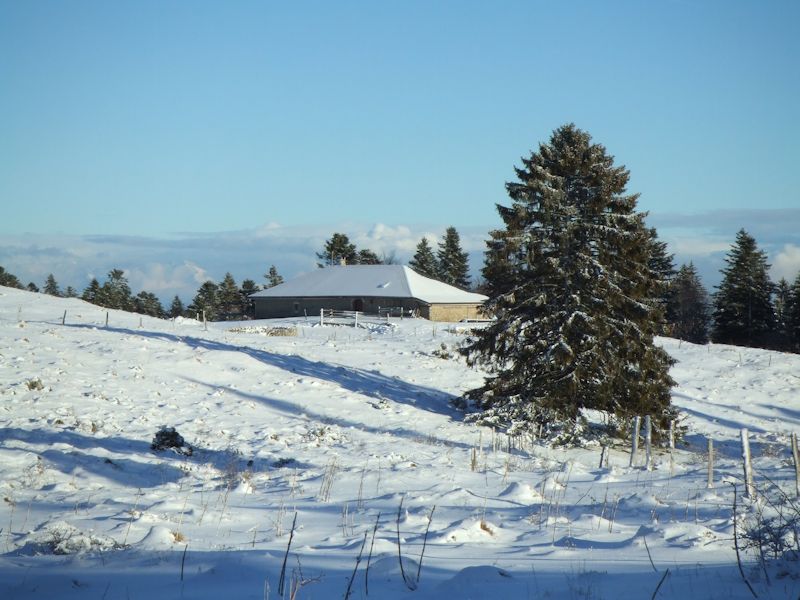 ---

Feedback and suggestions are welcome if positive, resented if negative,
. All rights reserved, all wrongs avenged. Posted 20 March 2001, revised 27 March 2008.