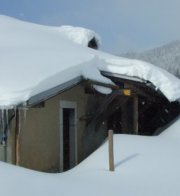 Dwight Peck's low-res photos
Farms of the Jura in winter
[The Jura mountains run in a southwest-northeast direction along the border between France and Switzerland, from Geneva (Genève) to Basel (Bâle), holding at about 1300-1400 meters altitude (4350-4500 feet), and peaking in the range of 1650 meters (5450 feet). These photos of high alpage farms in winter are mainly from the southwestern end of that range, between the cities of Geneva and Vallorbe.]
Le Couchant
Le Couchant ("The Sunset") farm lies at 1445m at the southwest end of the long (4km) hidden valley of Les Begnines, protected from the Lake Geneva side by a rampart of cliffs and from the French side by a tangled limestone forest ominously known as the "Cemetery of the Burgundians", presumably a poignant reminder of the famous events of the 1470s.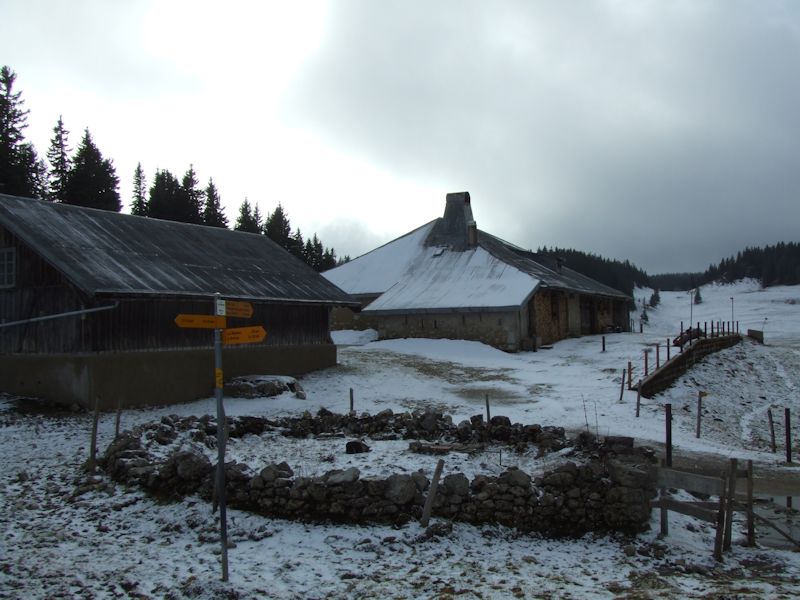 This is a grim and snowless 21 January 2007, late in the afternoon. Mont Sâla is up there behind the main house somewhere.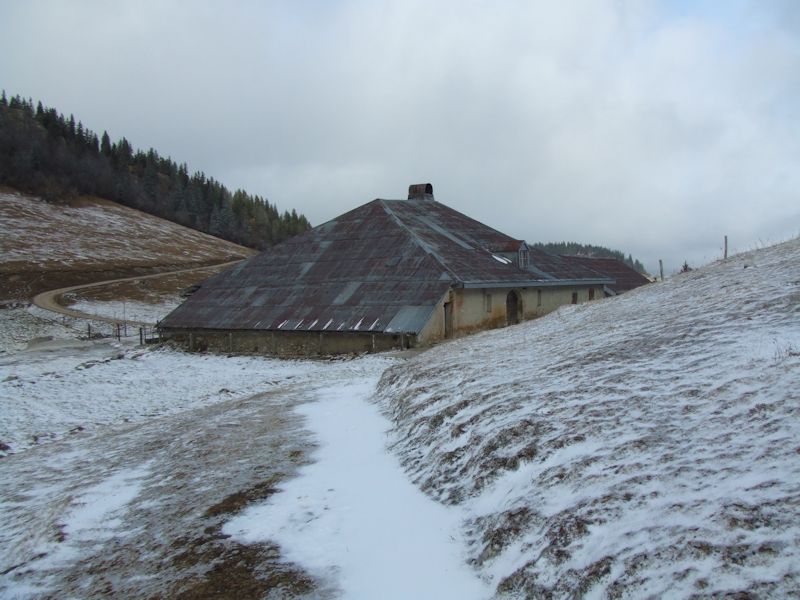 We're on our way to Mont Sâla and can't pause now.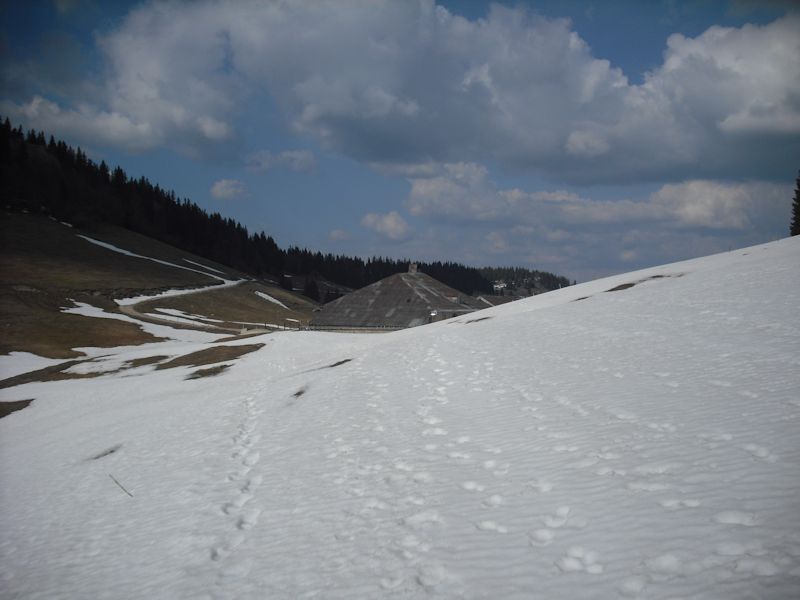 Icelandic lava clouds massing over Le Couchant farm, 18 April 2010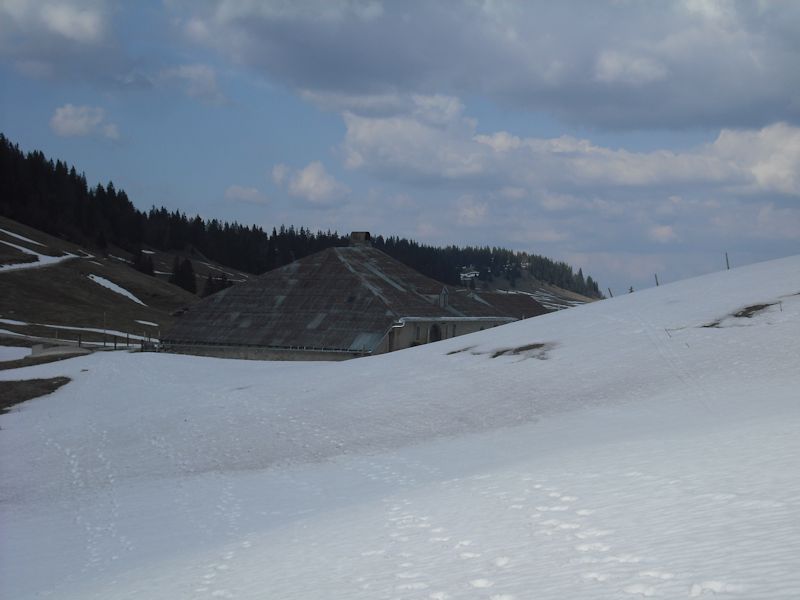 Le Couchant (1445m)
A lovely farm, owned by the commune of Chenit in the Vallée de Joux, near the French border on the far side of the Jura ridgeline
Icelandic volcano clouds, April 2010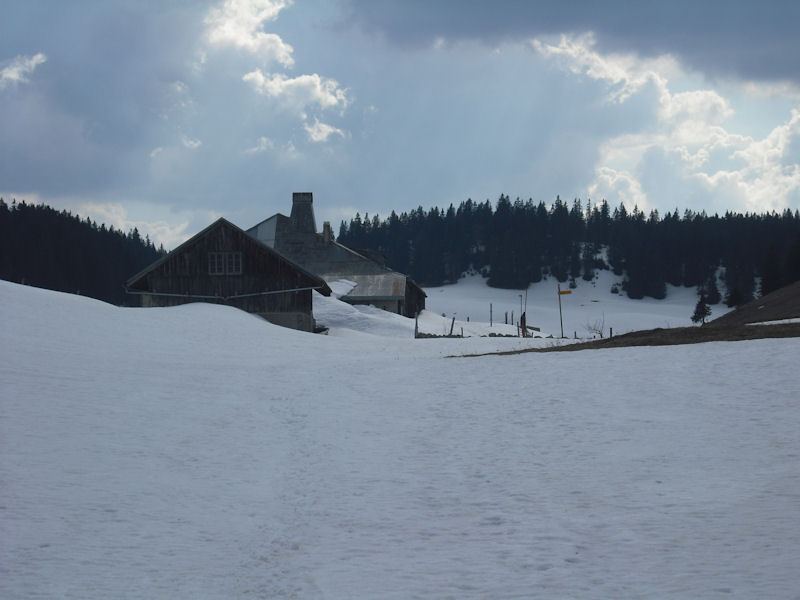 Le Couchant and the top of Mont Sâla behind
A visiting astrophysicist strikes a pose before the Couchant farm, en route for nearby Mont Sâla, April 2001.
Alison Peck at Le Couchant, 2001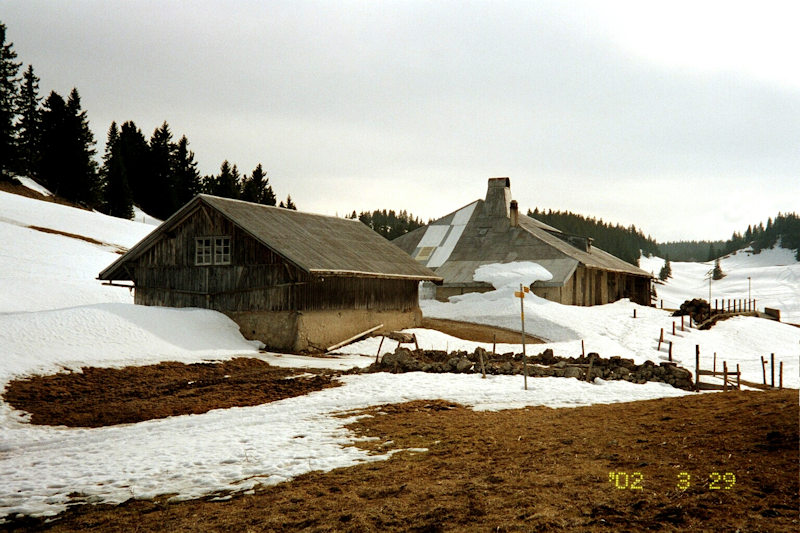 A rainy day in March 2002, Mont Sala up there between the two buildings. The Cimetière aux Bourguignons lies down to the right behind that little col in the distance to the right of the farm, a hellish sink of limestone cliffs and holes where, legend has it, the Burgundian soldiers fleeing their defeat in 1476 got lost and butchered. We've frequently been lost there ourselves but luckily not butchered.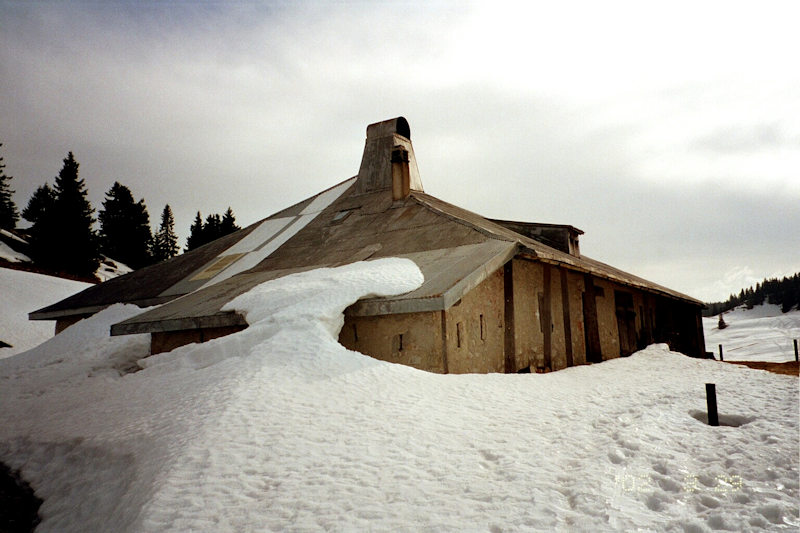 Le Couchant in the distance, and the Combe des Begnines, 1 January 2007

New Year's Day 2007 at dusk

---
From the Carte National de la Suisse, 25,000 scale: 1241, Marchairuz
---

Feedback and suggestions are welcome if positive, resented if negative,
. All rights reserved, all wrongs avenged. Posted 2 January 2002, revised 21 April 2010.