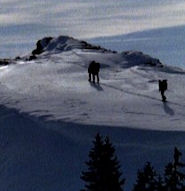 Dwight Peck's personal website
Sun and fun on Mont Tendre in 2005
---
You may not find this terribly rewarding unless you're included here, so this is a good time for casual and random browsers to turn back before they get too caught up in the sweep and majesty of the proceedings and can't let go.
We're bound for Mont Tendre on 13 March 2005, on cross-country skis this time.
---

Feedback and suggestions are welcome if positive, resented if negative,
. All rights reserved, all wrongs avenged. Posted 19 March 2005, revised 9 June 2012, 6 November 2013, 12 January 2020.