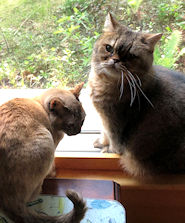 Dwight Peck's personal website
Summer 2023
---
---
You may not find this terribly rewarding unless you're included here, so this is a good time for casual and random browsers to turn back before they get too caught up in the sweep and majesty of the proceedings and can't let go..
Click on the photos to proceed
The annual trek from Virginia to northern Wisconsin
A brief sojourn in 'Little Bavaria' (Frankenmuth,
Michigan), 30 May 2023


The subtle joys of Manistique, Upper Peninsula,
Michigan, 31 May 2023

Cats on the lake (and a joyous birthday event)
early June 2023

Late June photos from the lake
(miscellaneous)

Cats still on the lake (and an unexcitable deer
in the canal), early July 2023

A few slightly exciting events, and the cats again
late July 2023

Early August -- some reasonably good fun, one tragic announcement, and a lot more from the cats on site

A rich variety of social events, and more cat pix
mid-August 2023


A brief sojourn on 'South Beach', Lake Superior
27-30 August 2023

Walks in the Nara Nature Park, Houghton, MI
29 August 2023

Wasped half to death on Adjidaumo and stuck once again in the canal (with cats), early September
---

Feedback and suggestions are welcome if positive, resented if negative,
. All rights reserved, all wrongs avenged. Posted 27 June 2023, last modified 23 September 2023.