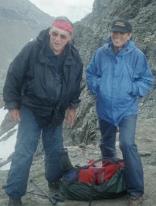 Dwight Peck's personal website
A walk to Italy and back, 2002 (2)
---
---
Bring your parachute if you have one.
---
Here we are in Italy on Sunday. How do we get back to work in Switzerland by Tuesday? Here's how.
---
---

Feedback and suggestions are welcome if positive, resented if negative,
. All rights reserved, all wrongs avenged. Posted 22 October 2002, revised 25 January 2008, 2 May 2013.