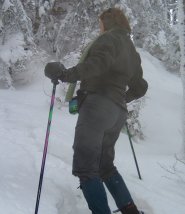 Dwight Peck's personal Web site
Winter 2005-2006
Short breaks from poring over the newspapers as the Bushies implode
---
---
You may not find this tangibly rewarding unless you're included here, so this is a good time for casual and random browsers to turn back before they get too caught up in the sweep and majesty of the proceedings and can't let go.
Kristin's Christmas visit and the Dent de Vaulion on a chilly day
Trying to think of a nice place to go for a walk before dinner, 30 December 2005.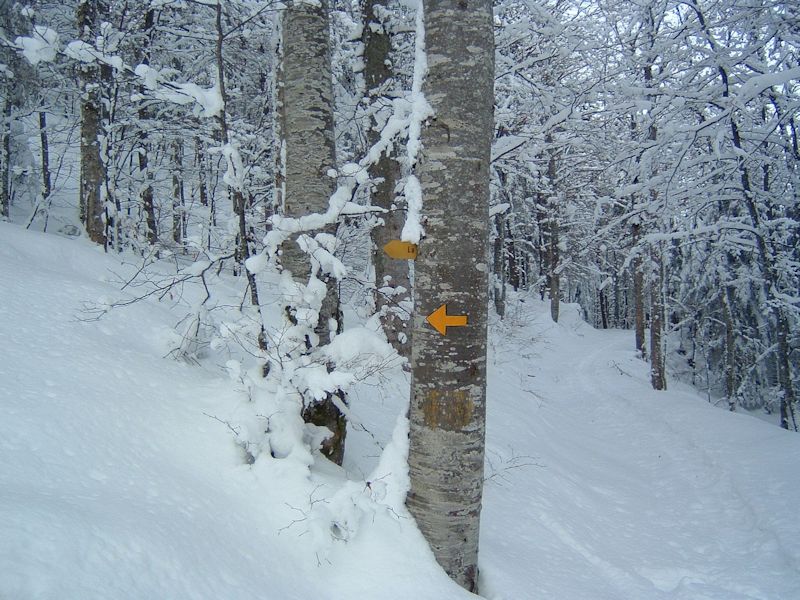 The Dent de Vaulion (1483m) overhangs the village of Le Pont on the Lac de Joux (1004m) in the Vallée du Joux on the west side of Mont Tendre. We've left the car at Petra Félix (1144m) just over the Col du Mollendruz. We're reassured to find this trail sign stuck in a tree, so our enthusiasm grows and soon becomes uncontainable.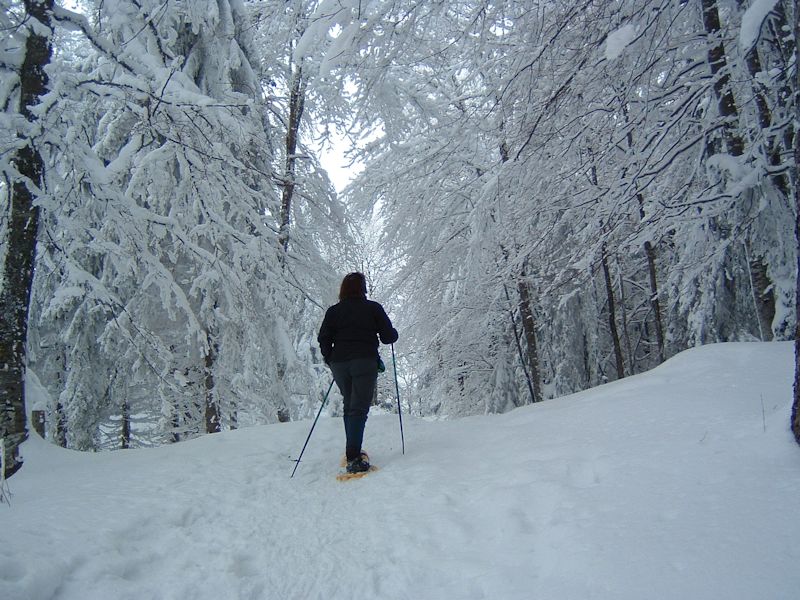 Lots of new snow hasn't melted down out of the trees yet, and it certainly won't today. (When it does, don't be underneath.)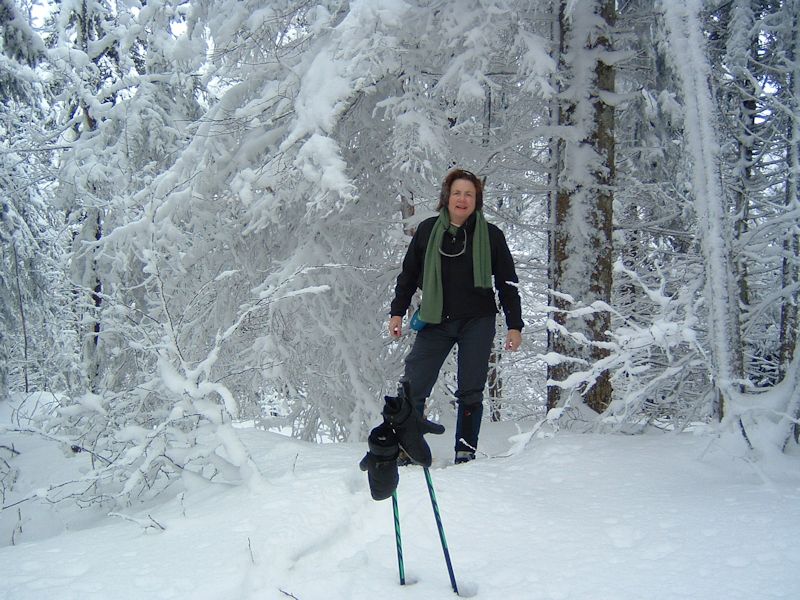 Kristin inquiring about the way forward, pretty much bursting with joie de vivre.
At about 1340m up the long ridge from the south, the hiking trail breaks out of the forest, and from here on, the wind gets to do anything it wants to you.

As it probably did to Goethe, when he walked up this same path at a dead jog in 1779; mind you, he was only 30 at the time, and it was in October.
Those are the Leysin Tours in the centre, twinned atop the distant snowfield, with Les Diablerets above them to the left.
The restaurant of the Chalet de la Dent de Vaulion, at about 1400m, at the top of a road from Vaulion with a nice petting zoo in the summer, but everybody's wisely gone now. The Dent de Vaulion summit is up there on the right, and if we want to get up there before the wind blows it away we'll have to abandon the party and make a run for it.
That's a newish telecommunications antenna that's been set up to make the Dent de Vaulion look even more beautiful. The two spots on the slope are hikers with Jansport backpacks who seemed to be fading badly but are almost there. Skilifts run up from the right side and a few hardy local teenagers can be seen just below them.
The petting zoo as we pass in a rush. Mont Tendre is on the right horizon, near the wind gauge.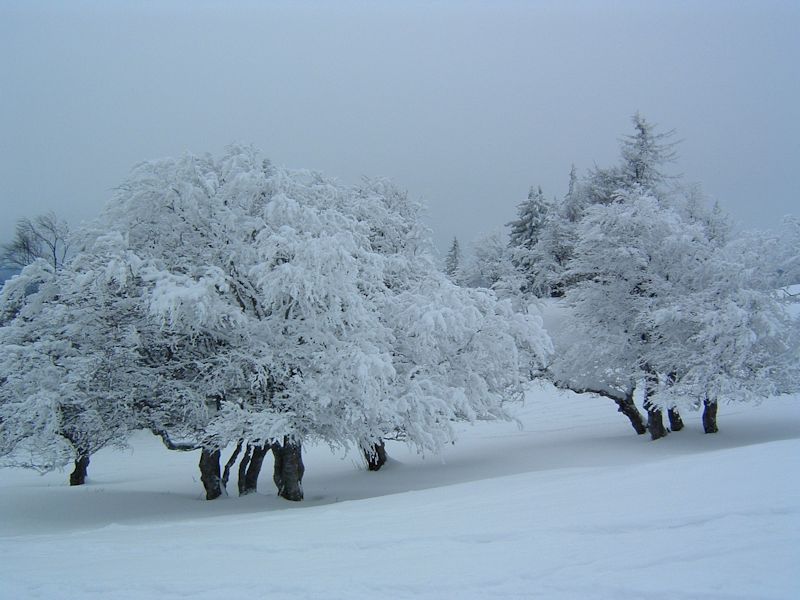 Icy trees not far from the top
More icy trees, with the Lac de Joux behind.
Our Jansport predecessors at the summit map-table, trying to figure out where they are.
The Lac de Joux, not quite completely frozen over enough for skating, though it was a fortnight later.
The wind is absolutely bonechilling and we'd better scoot back down to our party before we have to put hat and gloves on and button up our anorak.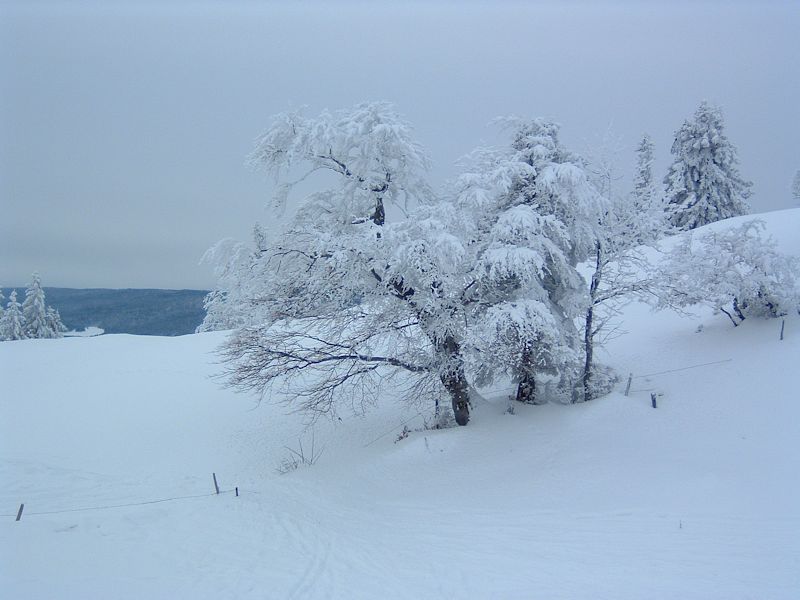 Icy trees are lovely in any weather. Well . . .. Well, it's mainly in winter, though.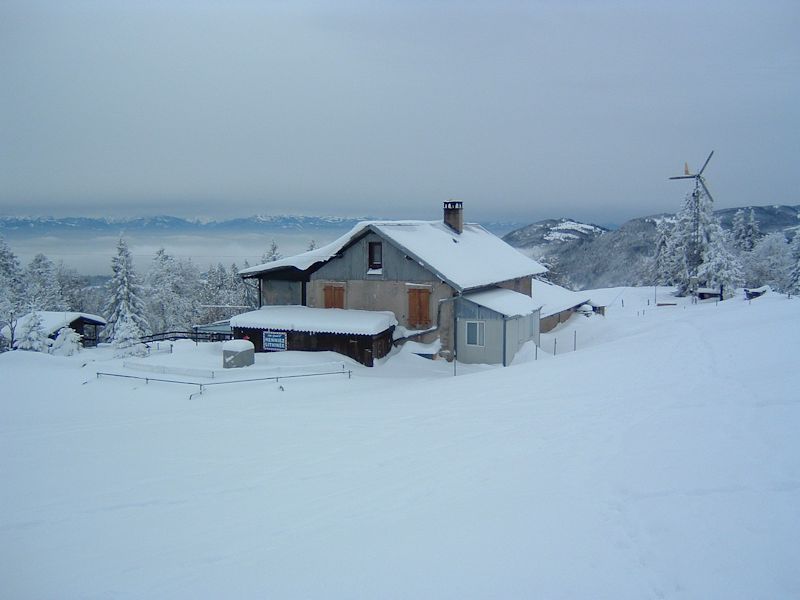 Tin-sided restaurants can also be lovely, too, in context.
Kristin is generally agreed that it's time to get out of here before the chilly wind begins making its own rules.
"Mad dash" is too strong a term for it, but life will certainly be more comfortable down in the forest.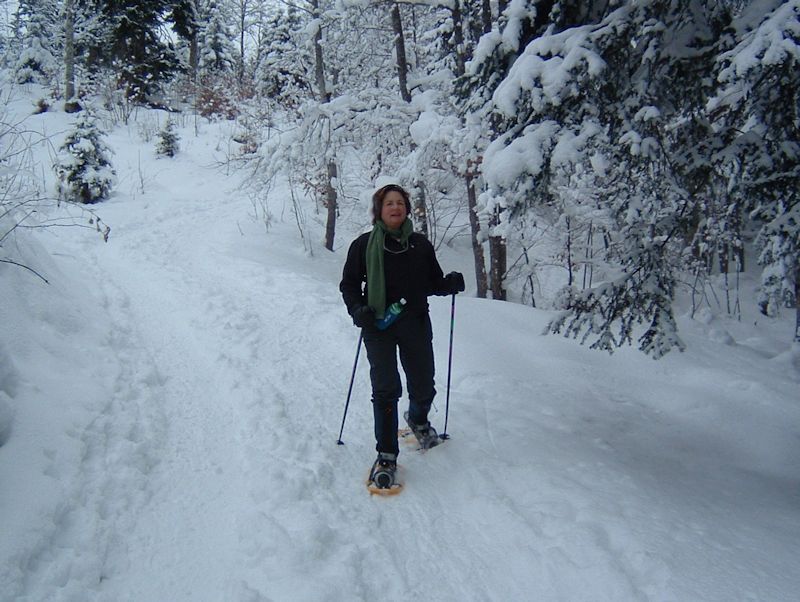 Sheltered by the trees, that's much better, and it's time to start thinking about dinner.

---

Feedback and suggestions are welcome if positive, resented if negative,
. All rights reserved, all wrongs avenged. Posted 8 February 2006, revised 9 October 2008.