Dwight Peck's personal Web site
Winter 2004-2005
as life's hectic non-stop party threatens to get out of control and really exhausting
---
Intersessional hikes in March 2005
You may not find this tangibly rewarding unless you're included here, so this is a good time for casual and random browsers to turn back before they get too caught up in the sweep and majesty of the proceedings and can't let go.

Between Kristin's visit in February and her visit in April, the narrator struggled along hiking-wise as best he could. In Kristin's absence, Dr Pirri often had to carry the lunch and wine basket.

There's our reliable Volkswagen, "Fritz", as we suit up for a short walk up in the forest of Grande Rolat, 5 March 2005. That's looking along the Vallée de Joux road up towards the Col du Marchairuz on the horizon.

We leave Fritz behind with a doubtful glance -- a wonderful automobile in all other respects, his one serious design flaw is a tendency to freeze up his doors in very cold weather. That would be a real bummer up here at nightfall.

Lots of nice new snow everywhere

This is a little late-afternoon solo stroll out along the ridge above the Combe des Amburnex cross-country ski tracks towards the farm of Joux de Bière.

That's the farm of Joux de Bière in lots of nice new snow falling, 5 March 2005.

And there's Fritz waiting patiently for our return. Doors opened like a charm.

---

This is the road down from the Col du Marchairuz towards the villages along Lake Geneva, near nightfall, 5 March 2005.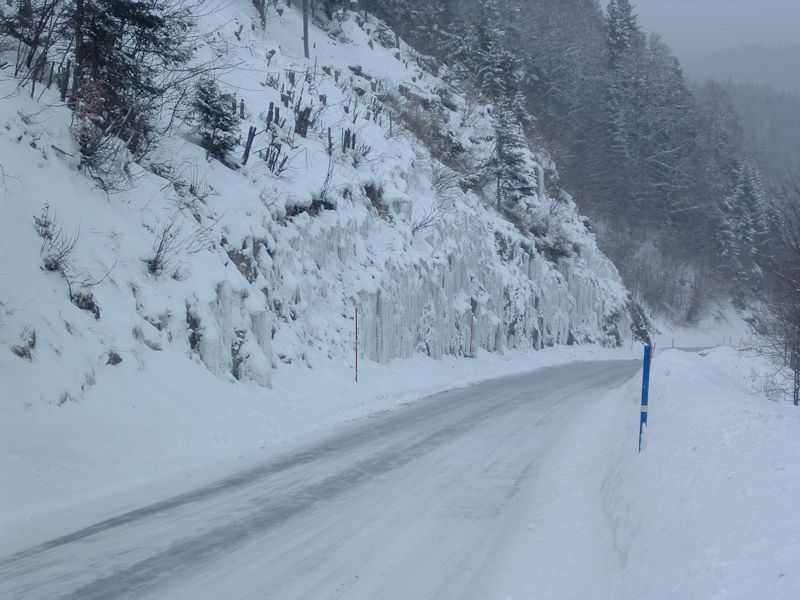 When the sun comes out tomorrow, a lot of that ice will fall off the cliffs and clutter up the road.
---
Les Echadex
Trotting up from the village of Longirod, 6 March 2005, our guide stands at parade rest whilst the party catches up with him. We're passing the farm of Goncerue.
As predicted, we're lost.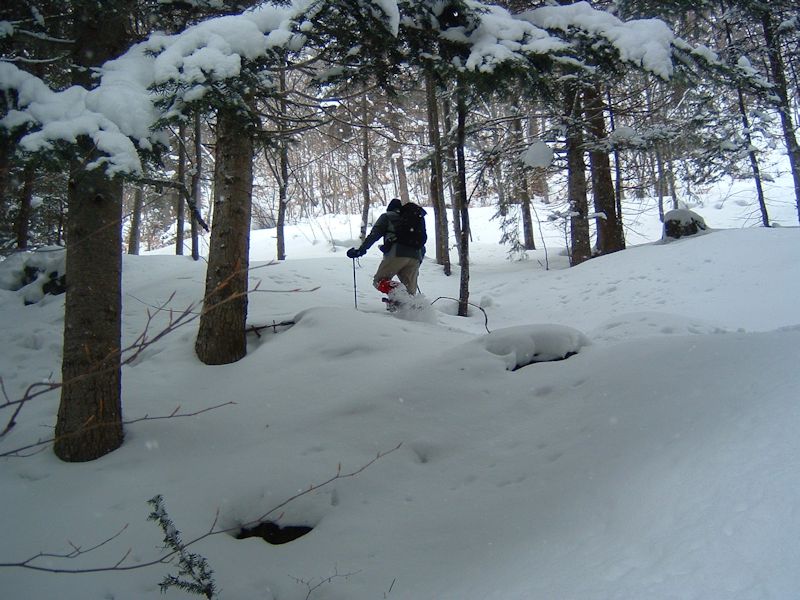 But "up" seems to be as good a direction as any.
Our guide is poking around here, looking for an easy way up through the little cliffie things.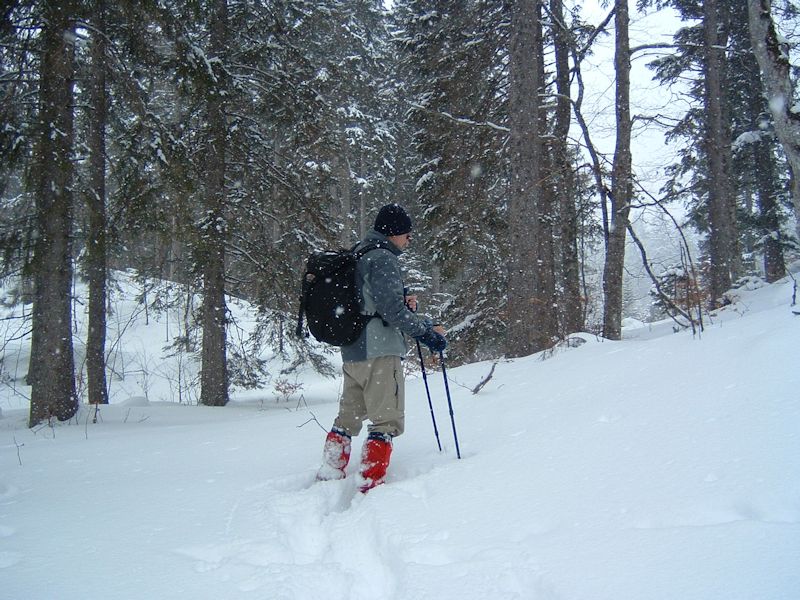 We were flirting with the idea of walking up to the Crêt de la Neuve today, but we're not wading along quite fast enough for that. So, as he ponders the situation, it occurs to our guide that we should make a big loop around the Echadex farm instead.
It's an intriguing thing about the Swiss Jura -- we're thoroughly lost, and yet we recognize the place well and we've been here many times before. But we were always lost then, too.
Slow going -- this is only at about 1380 meters, but it's starting to feel like the moon.
At last, here's the horizontal trail between Echadex and Petit Prés de Rolle, with a brief blink of sunlight. We're found again!
The narrator (left) and his shy guide, nicknamed "Guide" (right)
Our guide takes us off towards Les Echadex farm and a descent by the Tearoom de la Plage.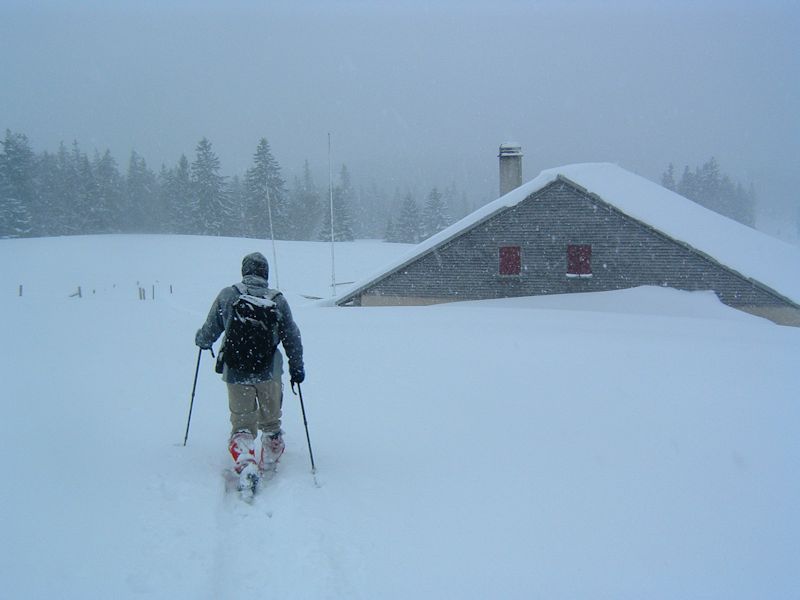 Les Echadex farm, 6 March 2005
The narrator recalling excellent pizzas of the past.
Beautiful snow's falling thick and fast.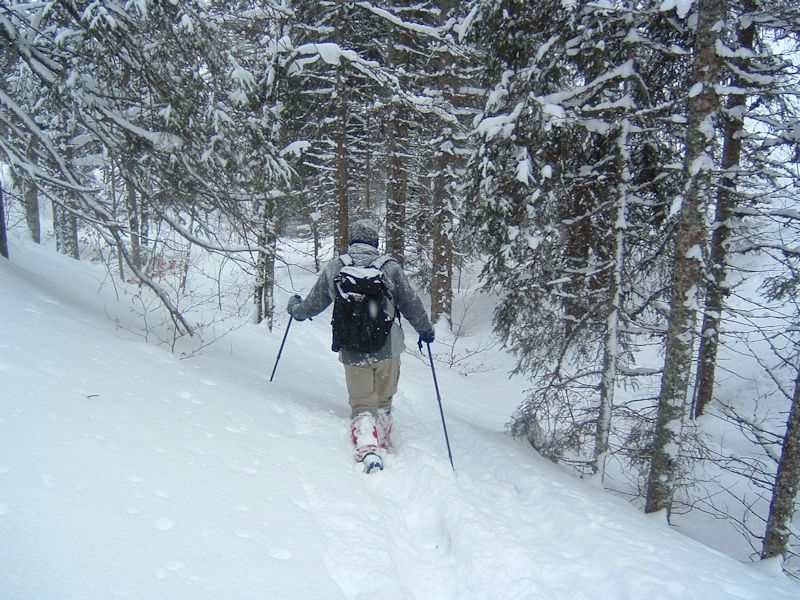 Dr Pirri, it has to be said, has been doing a superb job of leading our expedition so far, as we search about for a negotiable way down below the Tearoom de la Plage.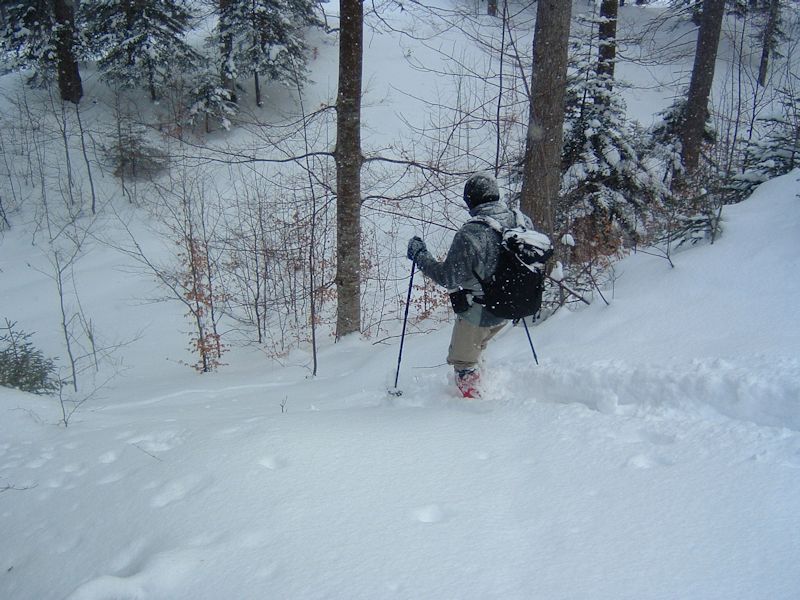 He leads us with a firm sense of where the best possibilities lie and the forceful decision-making that often leads to success.
But not always.
In the end, though, we pass the Goncerue farm again and straggle into Longirod with no harm taken.
---
Mont Tendre
Now we're going up Mont Tendre on our skinny little skis, 13 March 2005, but in fact that story's already been told elsewhere.
---

Feedback and suggestions are welcome if positive, resented if negative,
. All rights reserved, all wrongs avenged. Posted 3 April 2005, revised 24 September 2008.