Dwight Peck's personal Web site
Christmas 2002 in Aigle
---
---
If you are seeking inside information about US plans for Iraq after the liberation
:-), you've come to the wrong place.
This is just a bunch of photos of D. Peck's Christmas fun. Really, really, Mr Ashcroft! Don't hit me again!
You may not find this interesting unless you're included here, so this is a good time for casual and random browsers to turn back before they get too caught up in the sweep and majesty of the proceedings and can't let go.
Marlowe and Dmitri pose next to Mar's hastily constructed Christmas tree, 25 December 2002.
Dmitri opens a present from Marlowe right here in the Bassins digs. A young lady from Philadelphia and a young lad from Ottawa come to visit, and both at the same time!
Partying in Aigle, Christmas day (with turkey, etc.)
Laura exults in a major Christmas present, possibly a little bit intimidated, as who wouldn't be?
Laura says: "Okay, we'll try to be friends." Marlowe and Dima (right)
I'm ready to go home now. Gimme my dawg!
Dinner for the grown-ups: Dima, Marlowe, Sevgi, André (Dante), Lisa, Joëlle the hostess
Waiting to see whether the 'groaning board' will collapse under all that food.
Sevgi, Lisa, and Joëlle, 25 December 2002.
Marlowe's intense stare unsettles the photographer.
On Joëlle's penthouse terrace in Aigle: Lisa (Wizard of Oz stockings and all) and her son, Lisa and a passerby.
Dima and Marlowe with their silly goggles on.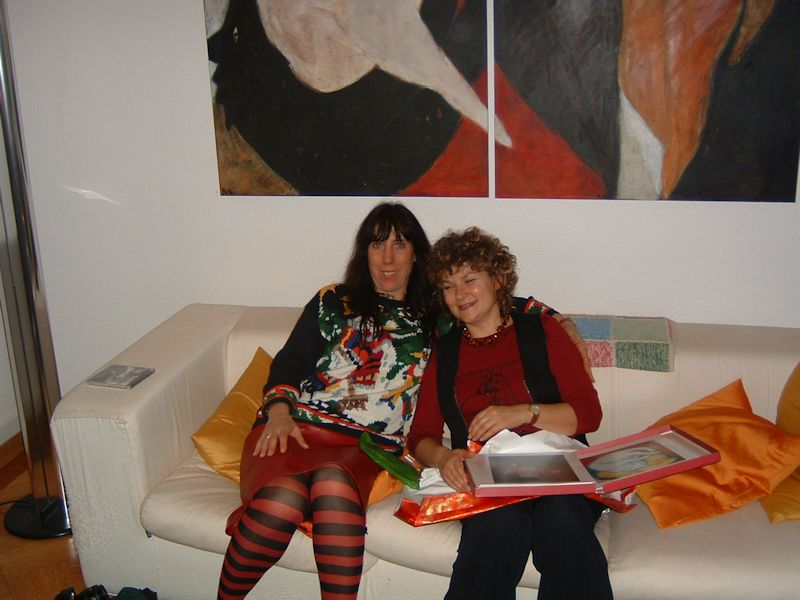 Lisa and Joëlle during the ritual opening of presents: more art books!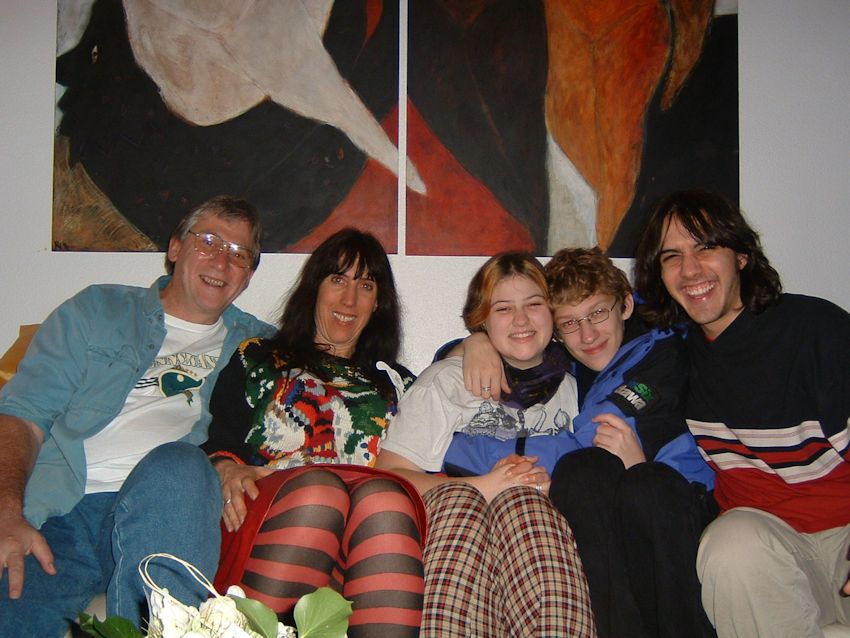 Nth in the series of Christmas photos (Mercedes missing, but Dmitri present)
See you at Christmas 2003 if any of us makes it through to another one.
---

Feedback and suggestions are welcome if positive, resented if negative,
. All rights reserved, all wrongs avenged. Posted 12 March 2003, revised 29 August 2007.