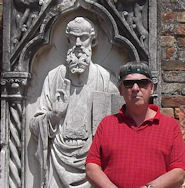 Dwight Peck's personal Web site
Summer 2010 -- Things are still looking up again
---
You may not find this tangibly rewarding unless you're included here, so this is a good time for casual and random browsers to turn back before they get too caught up in the sweep and majesty of the proceedings and can't let go.
| | |
| --- | --- |
| The anthills of the Jura, May 2010 etc. | A birthday lunch in Yvoire, 24 May |
A week in Venice
| | |
| --- | --- |
| Venice, and we're installed at the Lido | Venice, and the ferry to Chioggia |
| Venice, and a night at the opera | The view from San Giorgio |
| Torcello, the Ur-"Venice" | Burano, the colorful |
Sojourn in North America, late July - early September 2010
| | |
| --- | --- |
| The lake in the Wisconsin Northwoods | The Porcupine Mountains Wilderness State Park |
| Alison and Marlowe and their Fond Papa | The Bearskin Trail |
| Strenuous hiking in the Porcupine Mountains | The Wisconsin Pig Roast |
| The Grand Sable Banks, Michigan Upper Peninsula | Pilgrimage to Marlowe and Dima's in Ottawa |
What's next? Kristin's arriving tomorrow, before dawn, at Geneva airport, and next week we're off to Naples and the Amalfi coast through early November to avoid feeling that we have to vote in the shameful American midterm elections. We'd might as well just give up trying to vote with this great lot of clowns. The rest of the winter depends upon when the snow comes!
---

Feedback and suggestions are welcome if positive, resented if negative, Dwight Peck at
. All rights reserved, all wrongs avenged. Posted 19 October 2010.