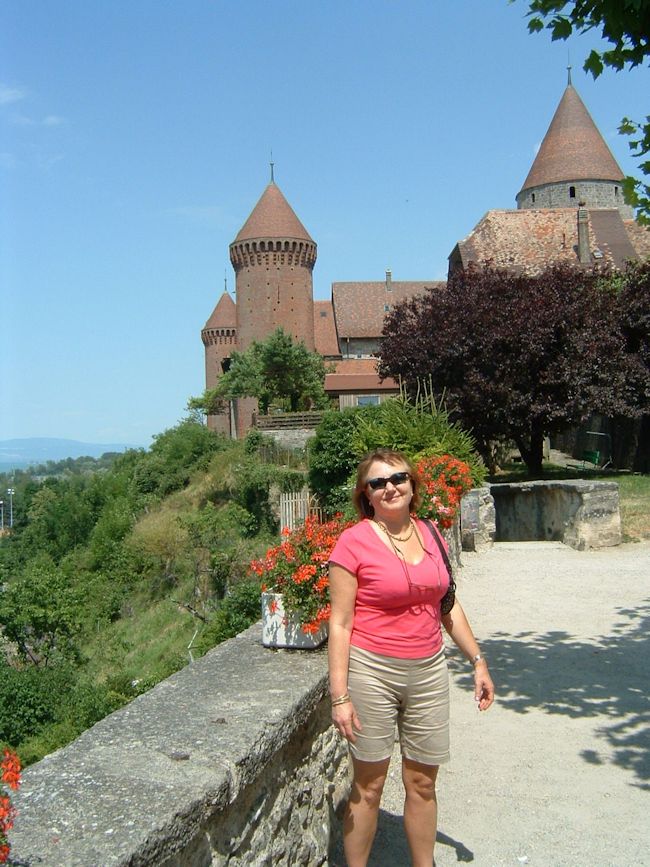 Dwight Peck's personal Web site
Summer 2003 -- Estavayer-le-Lac, Avenches,
Payerne
---
---
You may not find this tangibly rewarding unless you're included here, so this is a good time for casual and random browsers to turn back before they get too caught up in the sweep and majesty of the proceedings and can't let go.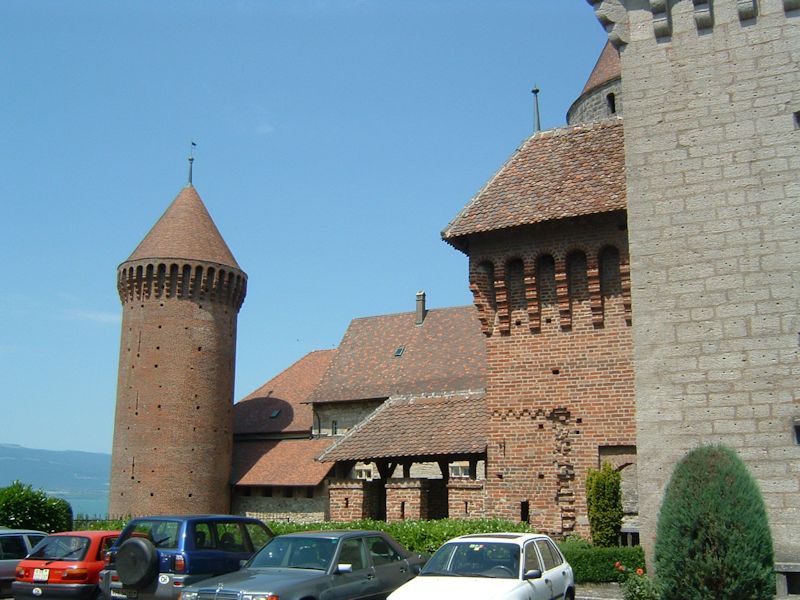 The castle at Estavayer-le-Lac, on the non-Neuchâtel side of the Lac de Neuchâtel in Switzerland (and strategically situated between two Ramsar Wetlands of International Importance, the Rive sud du lac de Neuchâtel and the Baie du Fanel et Le Chablais). 24 June 2003.
Gardens within the castle.
Kristin within the castle.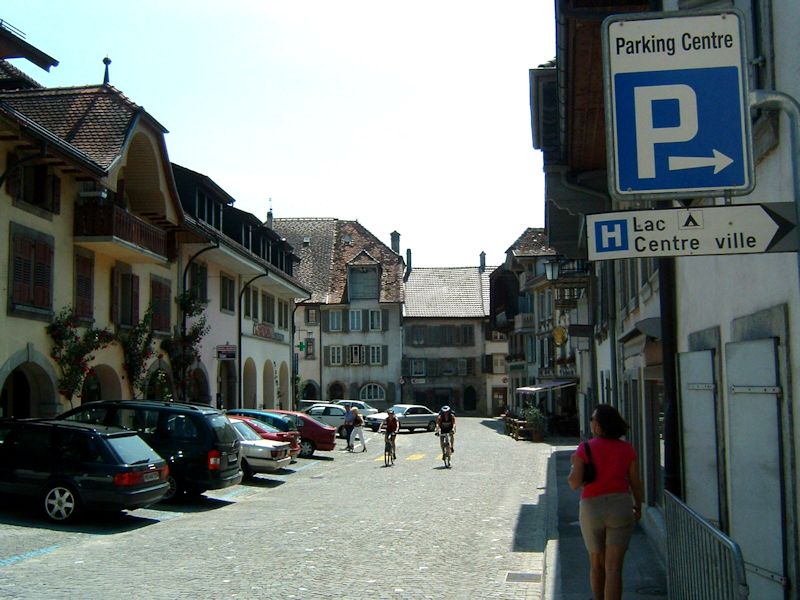 Bicyclists and Kristin touring the village.
More views of Estavayer (inside the police administration, in fact) and its nifty old walls and gates.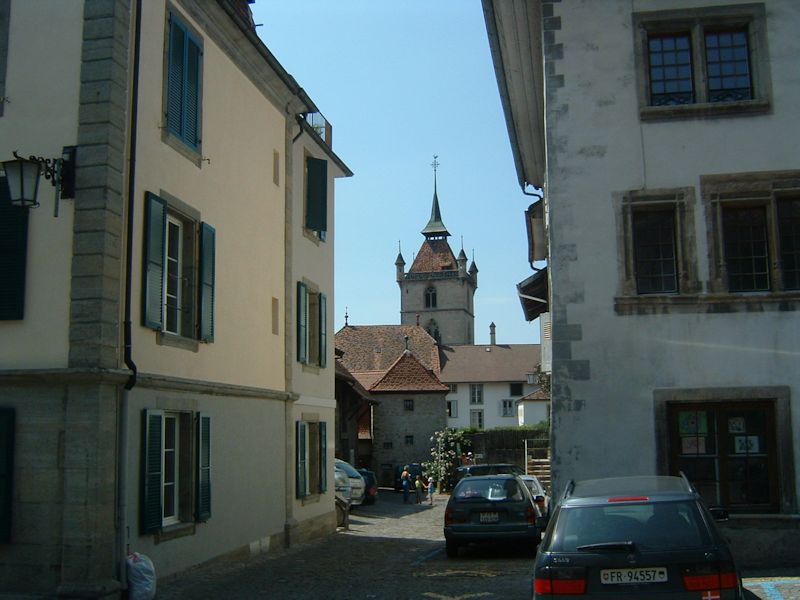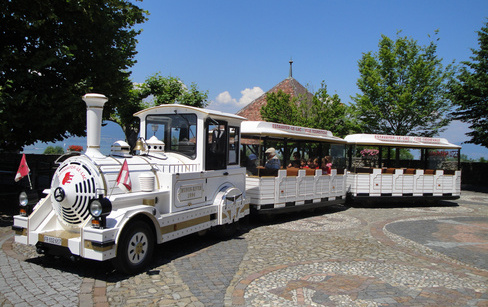 Say goodbye to Estavayer-le-lac -- we travel on now to Avenches across the flat land of the Broye.
Beautiful downtown Avenches, the medieval town built up all round the Roman military outpost of Aventicum.
The Roman amphitheatre of Aventicum, getting dressed up for some flashy new modern production. Aventicum was a very interesting Roman outpost, because (insofar as I understand it, with my shaky sense of history) Roman legionnaires who'd been posted at Nyon and other transmontane military garrisons and had reached retirement age were given land in the region around the Lac de Morat (or Murten in German) and allowed to organize themselves into their own unofficial Department of Homeland Security.

Win/Win!!! For the Empire, a free garrison outpost, and for the retirees, an organized way of living out their days (by drawing upon their long experience) in a kind of militarized comfort. Apparently, they organized themselves in a military hierarchy mirroring what they'd been accustomed to while on active service and, though retired and raising root vegetables in their gardens for a modest living, succeeded in keeping the barbarians at bay for at least a century more.
Of course, as we all know, eventually the barbarians have come along and got us all!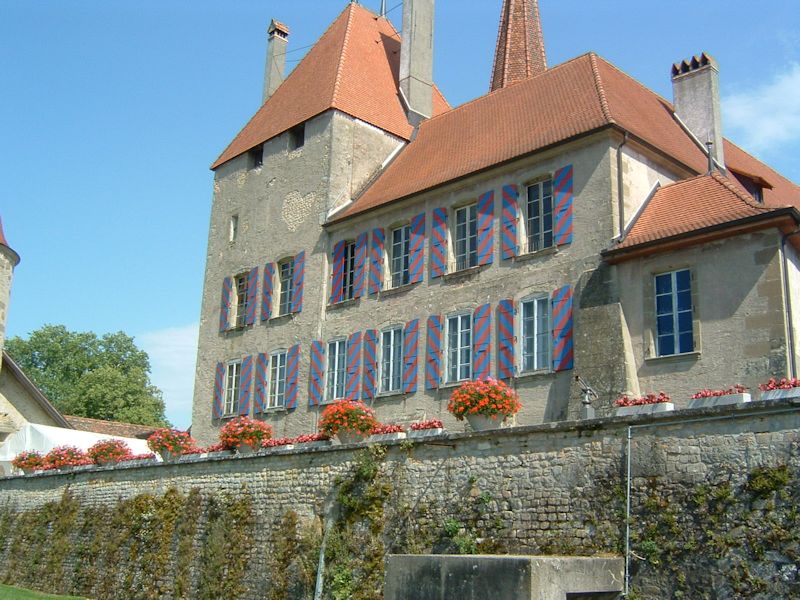 The town castle at Avenches. (Love the color combos!)
More Avenches
More Kristin (coaxing a cat)
Payerne, the nearby semi-city on the Plains of Broye.
Payerne was the seat of very early ecclesiastical administration -- in fact, it was for a time the overlord of the Cluniac monastery in my town, Bassins, on the other side of the canton of Vaud.
---

Feedback and suggestions are welcome if positive, resented if negative, Dwight Peck at
. All rights reserved, all wrongs avenged. Posted 8 November 2003, revised 8 March 2008.