Dwight Peck's personal Web site
Marlowe goes camping on Mont Tendre, summer 2002
---
Summer 2002 swooped in fast, blasted by over our heads with an acrid smell, and disappeared over the horizon. Mr D. Peck, for a large number of work-related reasons, was unable to plan any holidays from 2001 right all the way through 2002, and probably well into the spring of 2003 for that matter.
Nonetheless, Ms Marlowe Tyson Peck was able to take time from her busy schedule to come over for a two-week visit in mid- to late August 2002, during which time she camped on Mont Tendre, hiked in Italy, and went to see Colmar and Strasbourg in nearby France. And played computer games.
You may not find this interesting unless you're included here, so this is a good time for casual and random browsers to turn back before they get too caught up in the sweep and majesty of the proceedings and can't let go.
Having dashed all round the Swiss Jura in late August . . .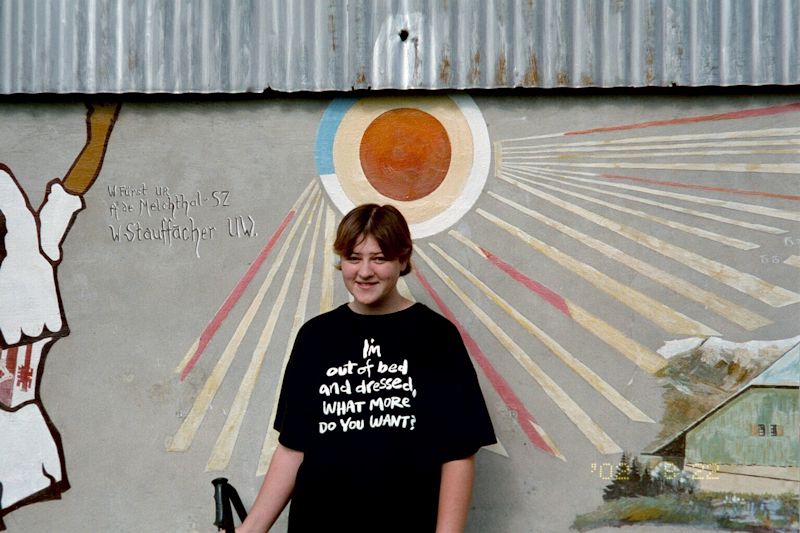 and having got beatified with her own halo on a hike to the Chalet à Roch Dessus . . .

and having stopped in for another Photo Op on the Crêt de la Neuve, Marlowe decided to go camping on Mont Tendre. For the umpteenth time in her short life.

This time, in a swirly foggy evening in late August 2002, Marlowe decided to camp northeast of the top ridge of Mont Tendre, about halfway between the Chalet du Mont Tendre and the farm of Le Risel, at about 1540m, overlooking a hollow called Creux à la Biche!

A nice, peaceful location up on the ridge. Not a sign of life anywhere that's not green.

Secluded, quiet, timeless, restful, etc. Unfortunately, the tent was also inadvertently perched precisely on one of the migratory routes of the Cow Bedouins, just at the end of the day as their jurassien hordes were beginning to think desperately about milking machines and seeking the way home.

It was clear that something was wrong when the cow commandos moved in and began reconnoitering the area for humans in their way.

The Cow Commander-in-Chief, named Donald, found Marlowe's tent, sensed humans or near-humans in the area, and ordered his Joint Chiefs of Staff to begin the assault.

Cow Special Forces swarmed up the little hill intent upon trampling and pooping upon the enemy's position.

But they were nonplussed to find no signs of life within (Marlowe slyly peeking out from behind the mosquito netting), sort of like running all round Afghanistan wondering where Mr Osama's gone, and like many cow assaults this one came to nothing in the end-- nor did the next four waves of cow commandos passing likewise through the area throughout the evening.

In the morning Marlowe counts her cow-free blessings again as her dad pulls down the tent and packs up.

Marlowe's Nth camping expedition on Mont Tendre thus turns out successfully in the end, and the cows can have their mountain back.
---

Feedback and suggestions are welcome if positive, resented if negative, Dwight Peck at
. All rights reserved, all wrongs avenged. Posted 14 November 2002, revised 22 January 2008.