Dwight Peck's personal Web site
Trip to the USA, August 1998
---
---
Holidays, in the Kyoto Summer, the hottest summer since the widespread burning of fossil fuels and the first summer since the U.S. Congress outlawed scientific research on combatting global warming. Better to keep moving than to expire miserably in a tiny apartment.
Who forgot the flash? Reuniting with old friends in Boston: Paul and Ana Maria Miller in the front, Professor C. Berman and Marlowe Tyson Peck in the back, a bemused passerby in the center.
Welcome to the USA, New Hampshire more precisely, the White Mountains more precisely than that, where every road seems to go either up or down. 7 August 1998.
A four pass ride of 125 kilometers, possibly more than this holiday-maker was ready for -- and what's more, wearing a bicycle helmet for the first time in his life. However well-advised helmets may be from a safety point of view, these things really drag you down and make you feel like a 50-odd-year-old office worker who has wandered unwittingly into a world of weight.

North of North Woodstock, N.H., the narrator displays Mr Miller's very serviceable bicycle, which, if our luck holds, will get us over Crawford Notch and back to North Conway pretty much in one sore piece.
Professor C. Berman digging out the amphetamines on the Huntington Ravine Trail up Mount Washington, in the White Mountains, 8 August 1998 -- a rare moment of repose.
Far from recovered from the bicycling excursions of the previous day, at least one of us was having semi-serious trouble on the Huntington Ravine headwall.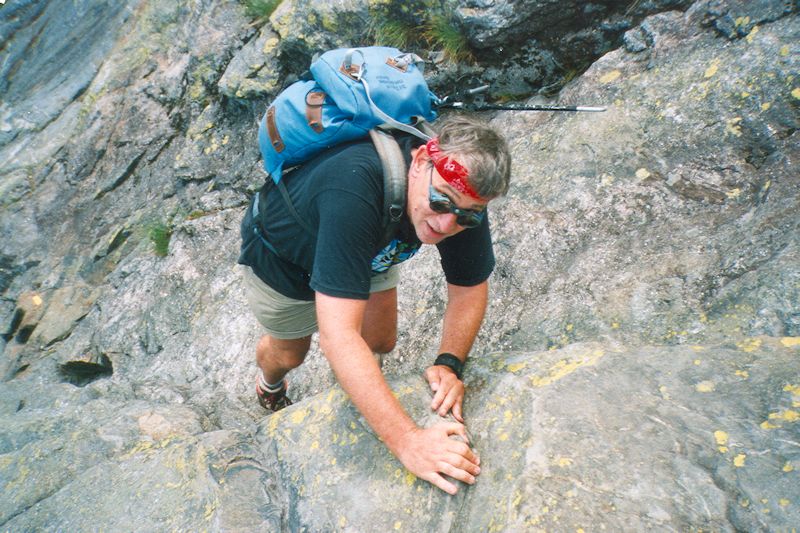 And if sometimes we became petulant, and perhaps snapped ill-naturedly at the photographer, it was surely just the effect of a series of violent heart attacks and cerebral aneurysms.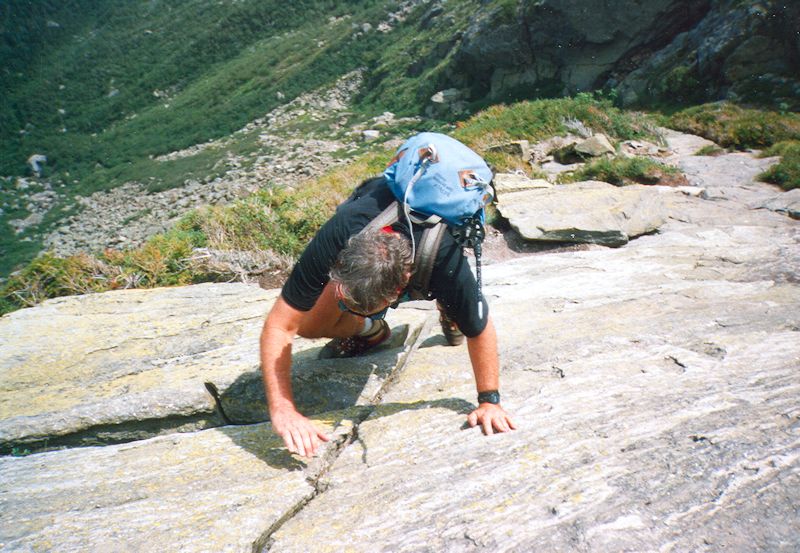 Still more cardiac arrests in progress. The photographer, Prof. C. Berman, had a lighter backpack and professed to be enjoying all of this.
The Mount Washington Summit Welcoming Committee, C. Berman, M. Shemo, P. Miller, A.M. Miller, waiting to greet the Huntington Ravine Expedition of 1998. Mr Berman (left) not only greeted the Expedition but was on it and arrived some hours earlier.

Photo: M. Shemo.

Former professors from the American College of Switzerland, Black Cap Mountain, New Hampshire, 9 August 1998. (Photo: M. Shemo)

C. Berman, M. Shemo
The following day, Mt Washington again, this time from the other side, the famous Ammonoosuc Ravine Trail, 10 August 2005 -- Prof. Berman demonstrating uphill snowless skiing techniques.
Lake of the Clouds, with clouds, 10 August 1998.
| | |
| --- | --- |
| | Charles Berman, newly returned in driving rain from a hike up Mt Washington via the Ammonoosuc Trail, calmly prepares to poke the photographer's eye out. |

Marlowe Peck, on the shores of Lake Superior in northern Wisconsin/Michigan, August 1998.
The cabin "Far Shores" on Lake Superior, Michigan, August 1998
The cabin "Far Shores" on Lake Superior
Mr Peck visiting with His Mum, Alice, and his Sis, Susan, newspaper editor, in Ashland, Ohio, August 1998
---

Feedback and suggestions are welcome if positive, resented if negative,
. All rights reserved, all wrongs avenged. Posted 19 September 1998, revised 3 April 2008.