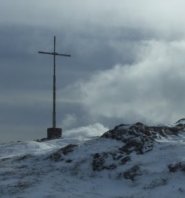 Dwight Peck's personal Web site
Mont Sâla
Another pretty big bump on the Jura ridgeline
---
---
There's a decorative cross on the summit, visible in the TIFF version of this photo but lost in the JPG alas.
---
Mont Sâla autrefois
---

Feedback and suggestions are welcome if positive, resented if negative,
. All rights reserved, all wrongs avenged. Posted 1 September 2002, revised 4 April 2008.