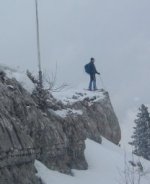 Dwight Peck's personal Web site
Mont de Bière Devant
---
---
The Monts de Bière, Jura meadows owned by the commune of Bière, poke up at 1520 and 1530 meters from the limestone forests just northeast of the Col du Marchairuz, and are really extraordinarily beautiful in the right light, especially in winter.
The flagpole outside Mont de Bière Devant farm, 4 March 2000.
From the flagpole, looking southwest toward Lake Geneva (Lac Léman). The city of Geneva lies at the right end of the lake.

Another view from the flagpole, showing the popularity of the place amongst snowshoers and the odd skier, 16 February 2003.
Seen from the south.

A snowshoe tangle on Mont de Bière Devant, January 2000.

Kristin taking her turn at the flagpole, 2 January 2004

An excellent walk up to Mont de Bière Devant in March 2004 with a collection of former ACS professors.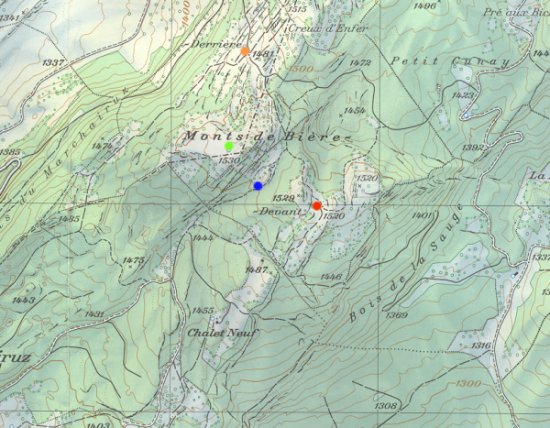 From the Carte National de la Suisse, 25,000 scale: 1241, Marchairuz
The red dot marks the farm of Mont de Bière Devant -- the green dot Mont de Bière itself, and the orange is the farm of Mont de Bière Derrière. The blue dot marks the spot where young Marlowe T. Peck camped with her Papa in late December 1994.
The flagpole near Mont de Bière Devant from the northeast, February 2003.

A new bench for resting on and a table d'orientation for orientating on, April 2010
---

Feedback and suggestions are welcome if positive, resented if negative,
. All rights reserved, all wrongs avenged. Posted 19 February 2002, revised 13 April 2010.