Dwight Peck's personal Web site
Marlowe Tyson Peck
Some of Dwight Peck's
best pictures of Marlowe . . . . .
| | |
| --- | --- |
| That's Marlowe a while ago -- Quite a while ago, with her Dad in 1985. | And here the wee one is at the Castle of Chillon, about 1987, with her doll. Marlowe's the one waving. |
| Marlowe went to Turkey in about 1987 and began her lifelong fascination with ancient inscriptions and monuments. This was in Ephesus, just before we ran across a snake the size of a Toyota. | The same era, circa 1987, Marlowe Tyson Peck on a ski touring expedition. Since she was wearing boring old downhill skis, however, she had to be towed on the uphill parts. |
| | Café Tour d'Aï in Leysin, 1990 |
| Marlowe hanging out at our bachelor pad in Gimel, Switzerland, a few years ago. | Marlowe scrambling through the Caves of Naye at the vast old age of 7 -- click on this photo for the whole saga. |
| Marlowe freezing her youthful butt off in December 1994 (age 10.1) in a tent in the middle of the night on Mont Biére, Switzerland. | Lac de Morat, 1994 |
| | |
| --- | --- |
| Evocative scenes of Marlowe, circa 1991-2, a) masked, b) horse riding, c) perplexed with headphones, d) mountaineering. | |
| | |
Boston, 1996, with Dad and Paul Miller
Boston, 1996, with Dad and Benjamin and Charlie Spozio
On the roof of Milano cathedral, 1997.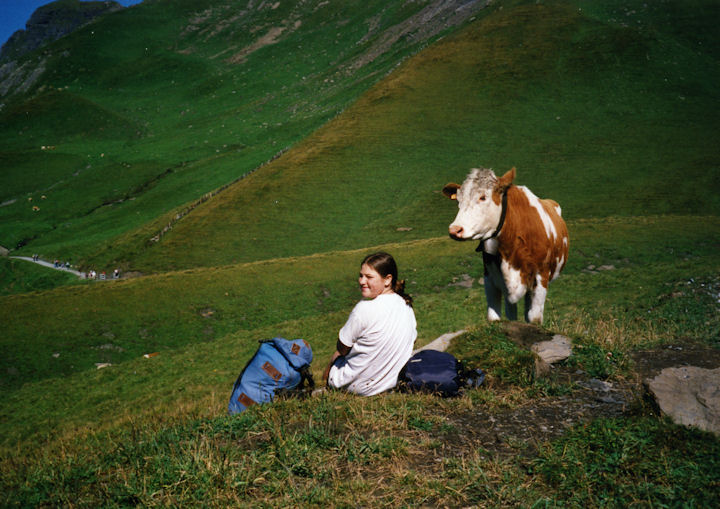 Marlowe and one of her friends discussing T. Hobbes' theory of the "state of nature", high in the Alps, summer 1999.
Waving coyly to the camera amongst 4000-meter peaks in Switzerland, August 1999.
Marlowe and Dad at the Trient Glacier.
Marlowe and Dima
---

Feedback and suggestions are welcome if positive, resented if negative,
. All rights reserved, all wrongs avenged. First posted 1997; revised 15 January 2009.