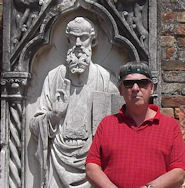 Dwight Peck's personal Web site
Venice street scenes, 2010
Oh, and the Lido, and Chioggia. And Torcello.
---
We wanted to go to Venice again. Paintings, history, decaying architecture, etc. But we can't afford it anymore. So we went to the Lido.
Torcello, for a change, and Venice, and then home
Venice, etc., in 2010
---

Feedback and suggestions are welcome if positive, resented if negative,
. All rights reserved, all wrongs avenged. Posted 25 May 2010, updated 13 July 2010.