Dwight Peck's personal Web site
Georgia in the springtime
Work and play in the Caucasus
---
You may not find this tangibly rewarding unless you're included here, so this is a good time for casual and random browsers to turn back before they get too caught up in the sweep and majesty of the proceedings and can't let go.
The 41st meeting of the Ramsar Standing Committee, late April 2010
The Deputy Secretary General memorializing our welcome to Batumi international airport. The government of Georgia, and its Autonomous Republic of Adjara on the Black Sea, are generously hosting our SC41 meeting in Kobuleti up the coast a ways, half an hour's bus ride with a suicidal driver.
We're all standing round outside Batumi airport, waiting -- our Secretary General, who's from Niger, has been held up in the immigrations shed, accused of trying to sneak into the country to find work, despite his diplomatic passport. Eventually, our hosts from the Ministry of Environment made all the immigration police troop outside and apologize (but the next day some of our African delegates got the same treatment).
The Georgia Palace Hotel on the Black Sea coast -- newly restored from its Russian heyday and reopened two years ago, there is a roomy elegance to the old pile.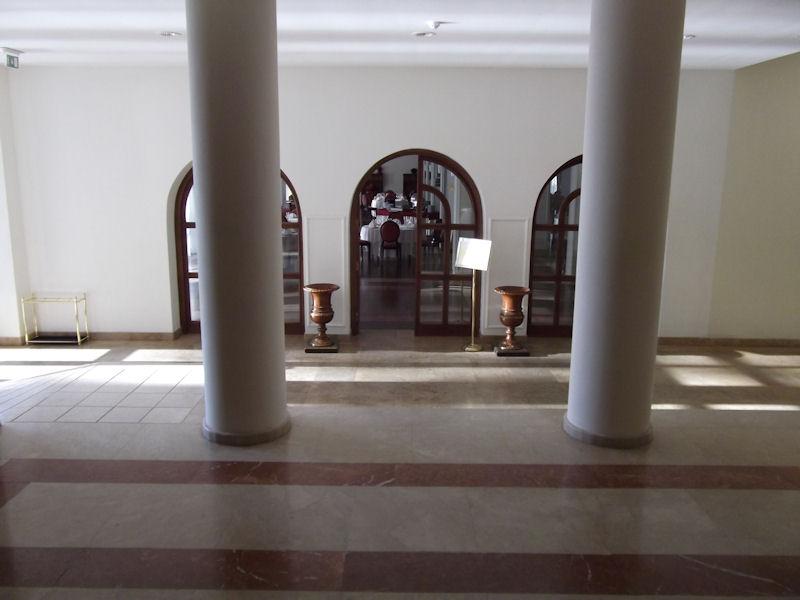 The restaurant smorgasbord suited me perfectly -- All you can eat! Great range of "international hotel" cuisine! Fantastic! More discerning diners quickly began looking elsewhere in Kobuleti -- in vain, as it turned out -- and hiring taxis to get back to Batumi looking for Georgian food.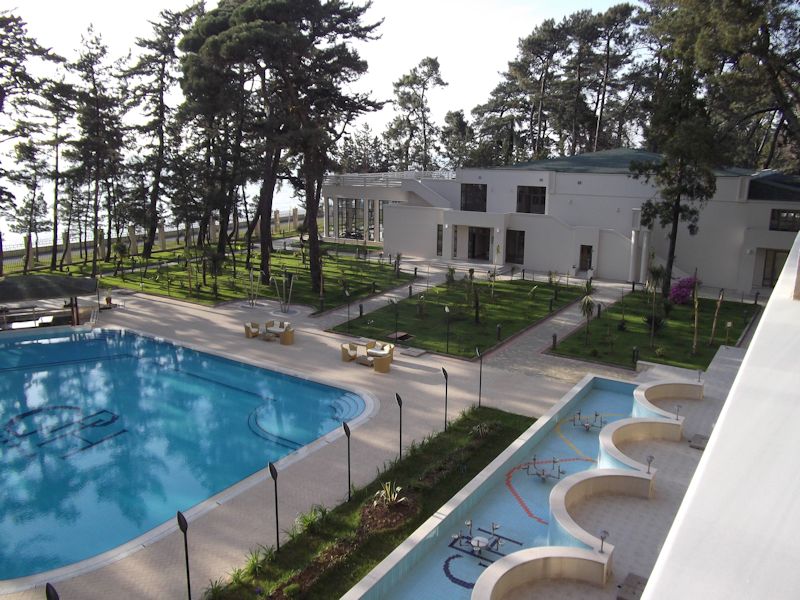 Campus style compound with pools, fountains, etc., shoulder-to-shoulder in the summer, but pretty much just for us now.
The building across the way is the hotel's bizarre health spa of some sort, with burning candles on your abdomen and noxious liquids poured down a two-foot tubular hat on your head, to chanting (as we learnt from the promotional video playing in the lobby all night), but there's also a plenary hall sufficient for our 70-odd delegates and all the up-to-date interpretation, audio, WiFi conveniences, etc.
Kristin's come along to her first Ramsar meeting, and we're here for two days before I'm on duty -- so whilst the Management Working Group, the Subgroup on Finance, the Subgroup on COP11, and all the regional meetings are buckling down to business on Monday and Tuesday, we'll be strolling around the town, and I'll be dreaming about the smorgasbord international-hotel cuisine in the evening.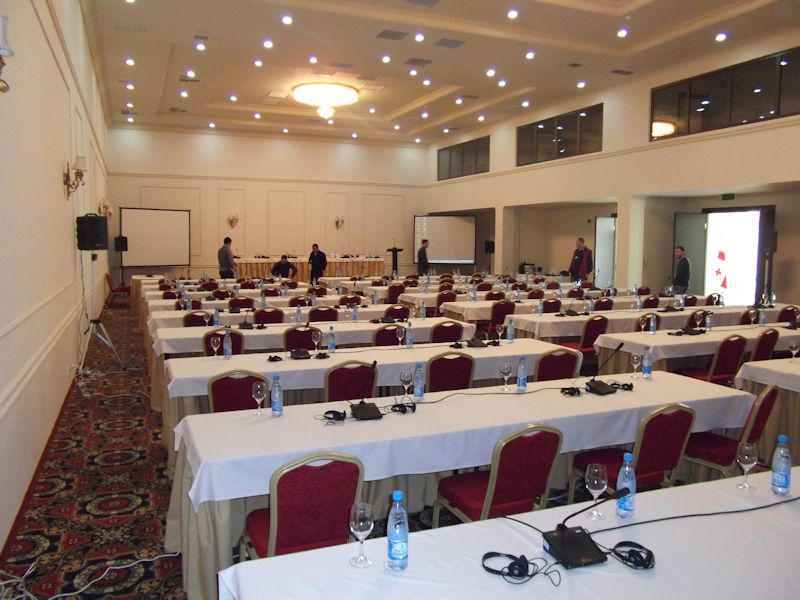 The plenary hall being set up by our Georgian colleagues. Interpretation booths upstairs.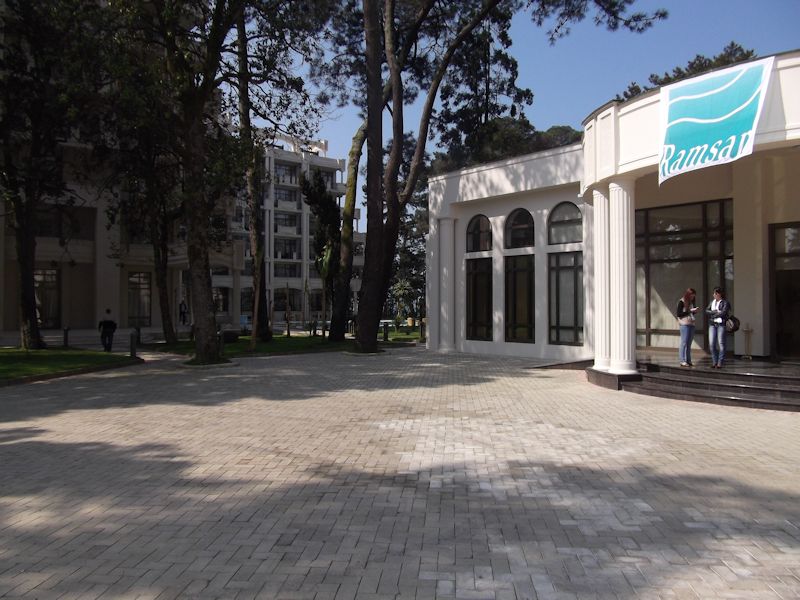 Campus style convention facilities just alongside the hotel
My office was meant to be the one on the upper left, but in the end I pulled my all-nighters on a borrowed computer in the hotel, closer to the 24/7 bar.
The next day, we're off to walk into downtown Kobuleti, along the beach to get started with.
Not a very comfortable sort of beach, but lots of it
All over Kobuleti there are elegant old buildings, many of them in a distinctive architecture, but mostly they're in ruins. When Georgia became independent from the Soviet Union in 1991, the Russians pulled the plugs -- all the plugs, in fact -- and our guides told us that in the 1990s Kobuleti went without electricity for months at a time and lost its only market for agricultural produce, and fell into serious dilapidation.
There's some beautiful restoration going on here, and our guides are very proud of that, claiming that the Adjara region is entering into a period of economic and reconstruction boom, but . . . well, half-finished projects all over the place are either mid-way through a construction boom or just abandoned.
Lost love and an idle dog. We all know the feeling.
Hopefully that's a restoration project briefly paused.
Beachfront restoration. The local young people get positively bouncy in their chairs when they tell us about what this party is like in the summer. They claim that Russians are coming again, lots of Armenians, and of course half the population of Tblisi, the inland capital, all of them ready to rave throughout the summer nights.
-- That's disgusting.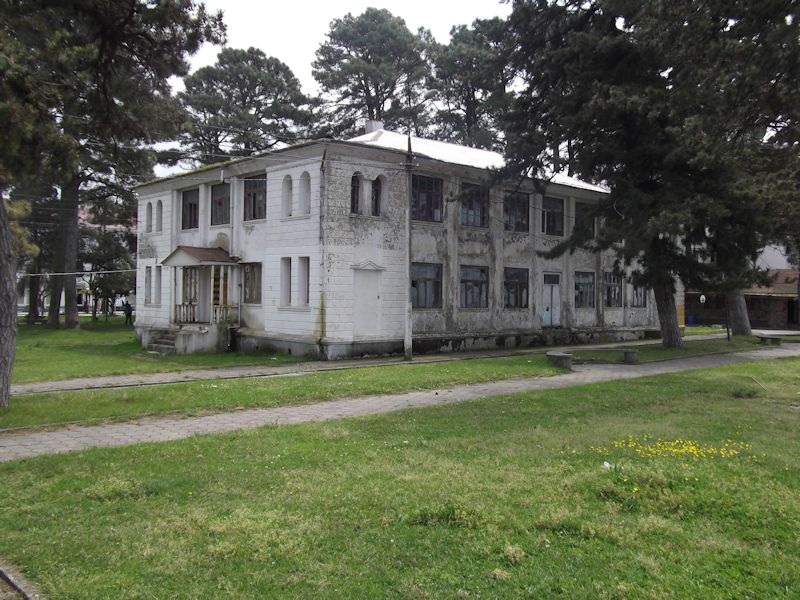 There is a lot for the restorers still to get to. (The whole town is a fixer-upper.)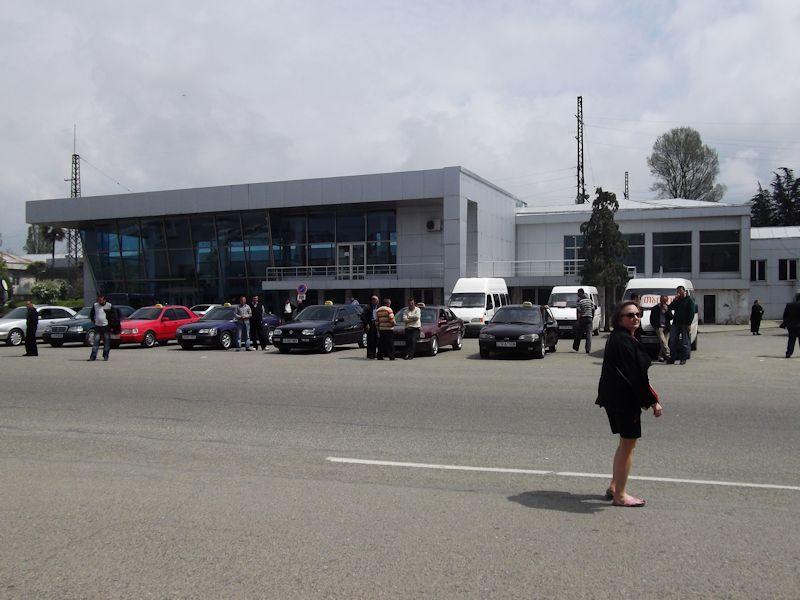 We've wandered down the shoreline a few miles into the centre of Kobuleti, i.e., the modernish rail station.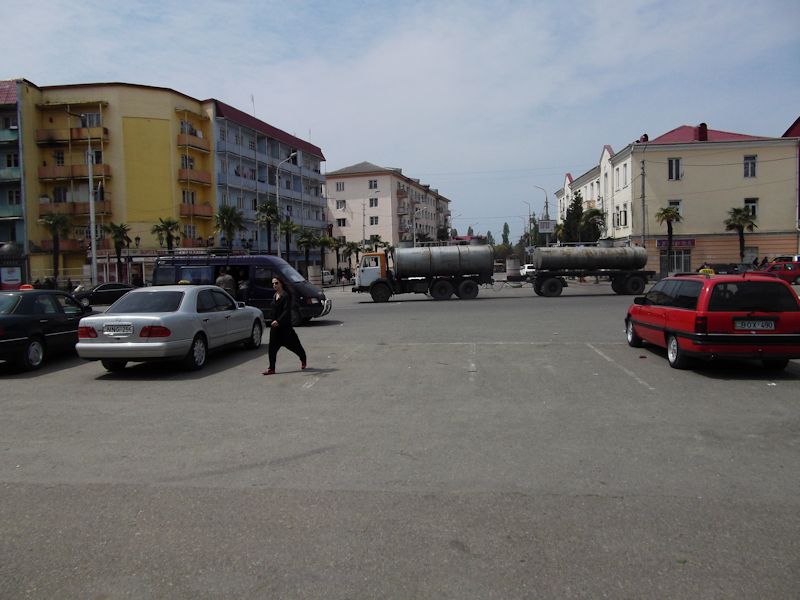 Bustling downtown Kobuleti
Flower sellers all over the rail station area, and Kristin
And brooms for sale. Whatever Georgia's economic prospects and EU/NATO aspirations, Kobuleti shares with many third-world cities an extremely large number of people standing around, snoozing in shade, chatting desultorily, staring into space, waiting to learn whether anyone would like to buy anything today. Like brooms, or Chinese plastic flip-flops, or a potato.
Kristin on the lookout in Kobuleti centre. There were no bathrooms in the rail station.
A distinctly suspicious look. Our hosts from the government were extremely friendly and helpful, but my impression of Georgians otherwise, in Kobuleti and elsewhere, was of a sort of non-threatening hostility. Perhaps that's too strong a word. But on the streets -- never a smile, just a glare.
The skin colors are different but I'm reminded of Kampala.
Georgians were known to classical European writers (we're in the ancient kingdom of Colchis, where Jason and the Argonauts stole their Golden Fleece, something that's still resented by Georgian tour guides to this day), but they do not fit into any of the main ethnic groups of Europe and Asia. And their language is unique, neither Indo-European, Turkic, or Semitic, and the beautiful writing system has no connections elsewhere.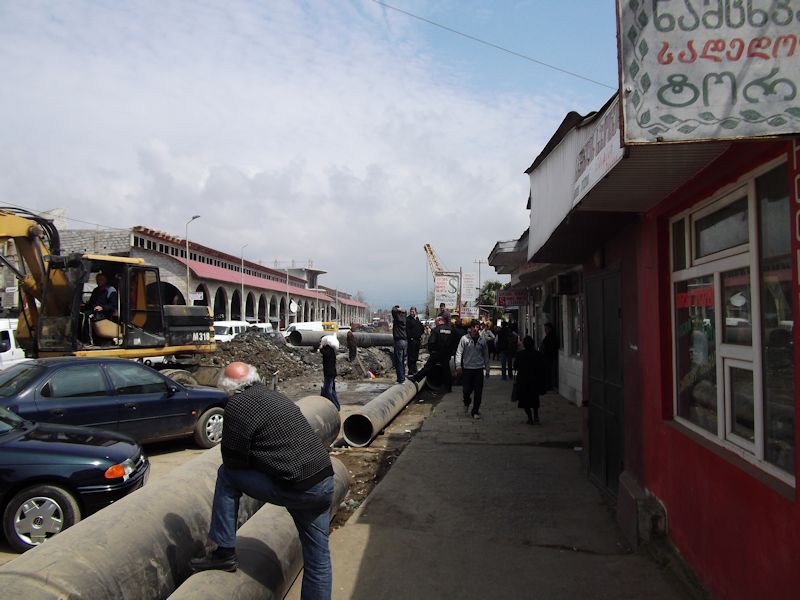 The Kobuleti Mall. There are small convenience stores around town but no markets or malls -- this is Kobuleti's sprawling bazaar, centred on the purpose-built arcaded market building just down the road.
It's a working market for locals, not for tourists. We saw mainly Chinese plastic stuff, nothing made in Georgia, as far as we could tell.
The main part of the market, half under water. The upper story was either never completed or has been abandoned.
Kristin looking in vain for a souvenir sort of something. (Perhaps a potato.)
More brooms. More potatoes.
Satellite TV antennas everywhere, though. Many houses have three of them on the roof.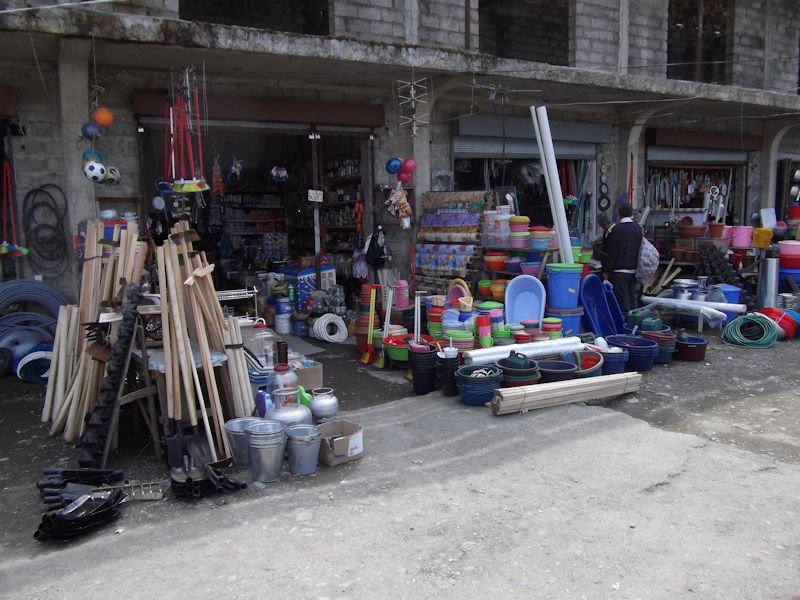 All kinds of useful items
Presumably they bring all of this stuff out from behind the shutters in the morning and pack it back up every evening.
An engineer could tell us whether these buildings are half-completed or half-fallen-in.
The bulk potatoes emporia
We're in the toys district
Shoes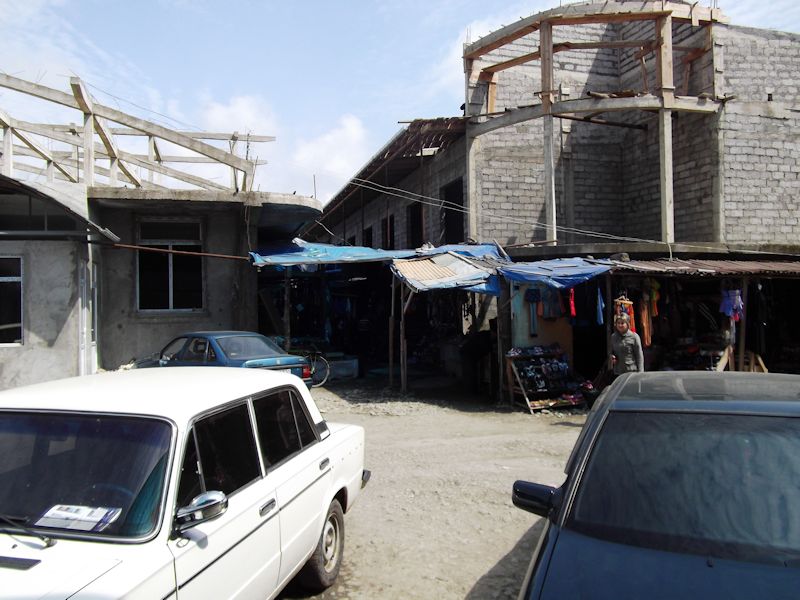 "Location, location, location." The mantra of good retail marketing.
The land of plastic buckets
Overflow. The blue car had two guys asleep in it. Probably waiting for a sale.
More toys. Brooms. Antennae.
Time to walk back home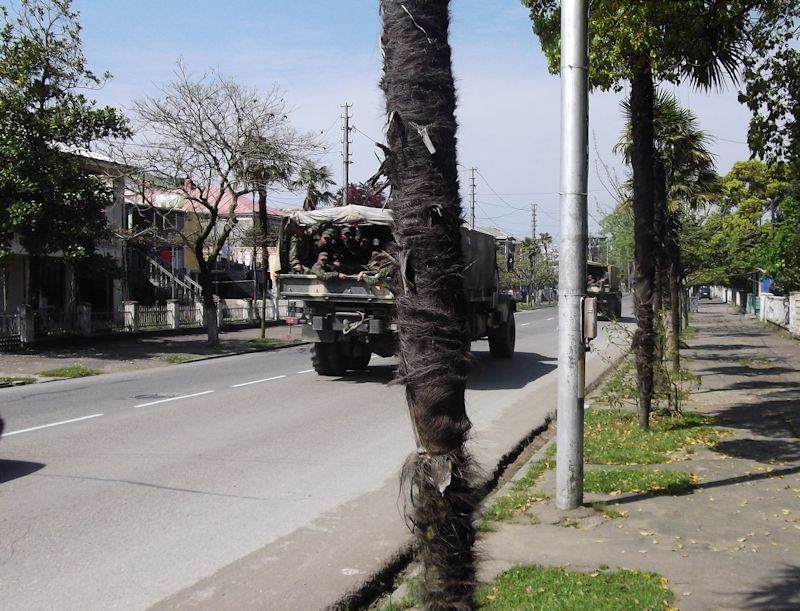 Troops on the move. Georgian troops, hopefully.
A fixer-upper.
Everywhere, I sensed, a lost elegance. (Not Kristin.)
Except in the compounds
Time for a little work before dinner. The next day I tripped on the steps above the plenary hall and smashed that Ramsar laptop. Luckily, the government had provided me with an old desktop (with Windows that kept popping up to claim that it was a counterfeit copy), and everything worked out fine (except for viruses on the USB flash keys when I got home).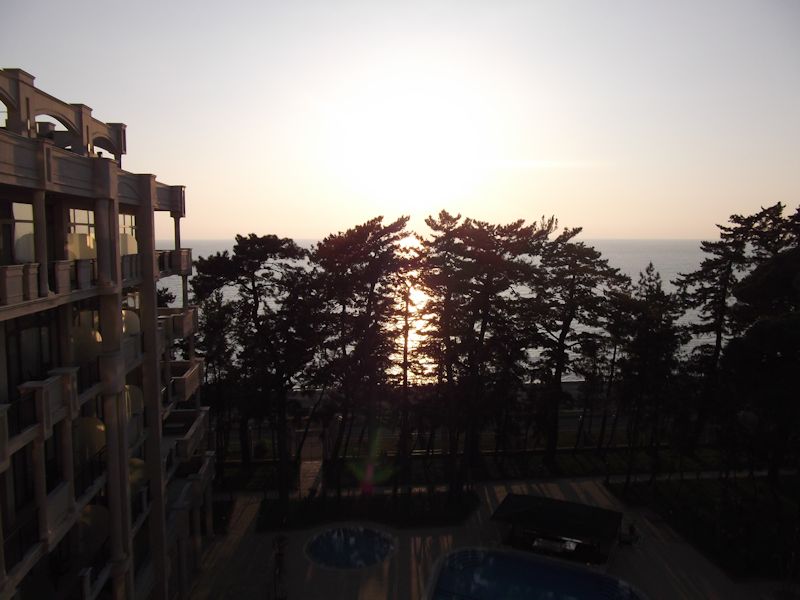 Sunset. Tomorrow we're going to go see the Ramsar swamps. And the next day, too.
---

Feedback and suggestions are welcome if positive, resented if negative,
. All rights reserved, all wrongs avenged. Posted 8 May 2010.