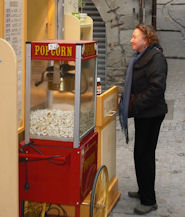 Dwight Peck's personal Web site
Kristin's visit: Southwest of France 2008
---
A ten-day respite from All That -- Kristin's visiting and we're in Sarlat for four or five days and trying not to miss any of the medieval castles still open for viewing in late November.
You may not find this tangibly rewarding unless you're included here, so this is a good time for casual and random browsers to turn back before they get too caught up in the sweep and majesty of the proceedings and can't let go.
Castle-hopping along the Dordogne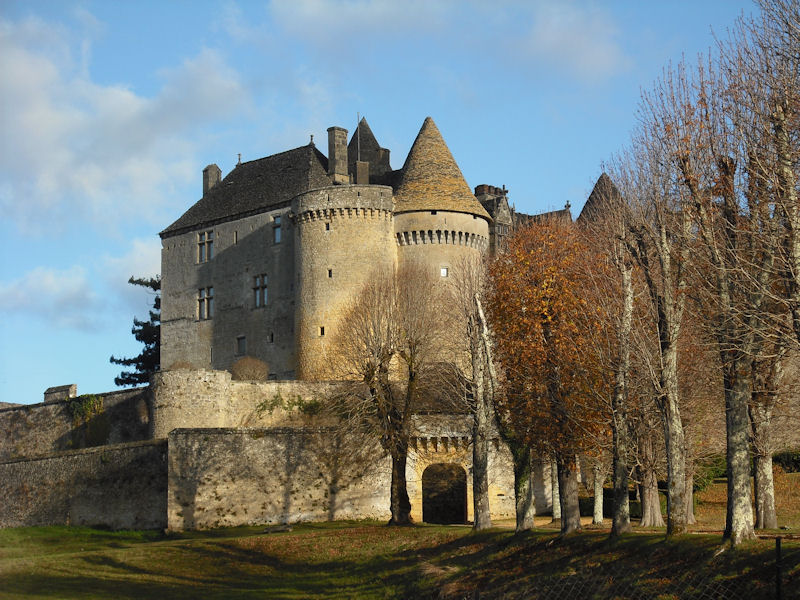 The Château de Fénelon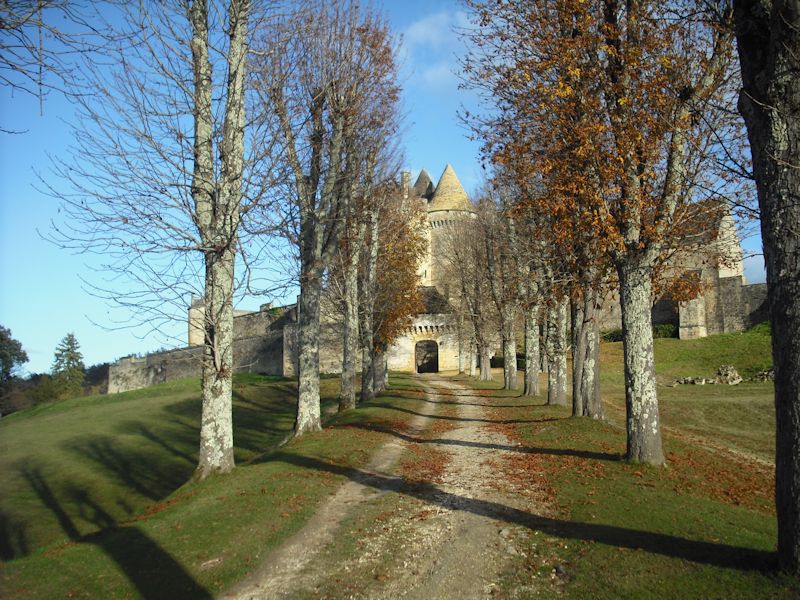 Stuck up on a rocky platform above the village of Sainte Mondane on the southern side of the river Dordogne, the original 13-century castle was largely refurbished, strengthened, and Renaissancized in the 16th century and is now considered a pleasant mélange of medieval fortress and Renaissance palace.
We're sauntering up a lovely tree-lined drive up to the front gate, very welcoming, except that once inside, you're not. There are fully-encircling double walls, and you need to circumambulate the whole place a few times (under fire from the parapets, if you haven't got your ticket) before you get to the real front door.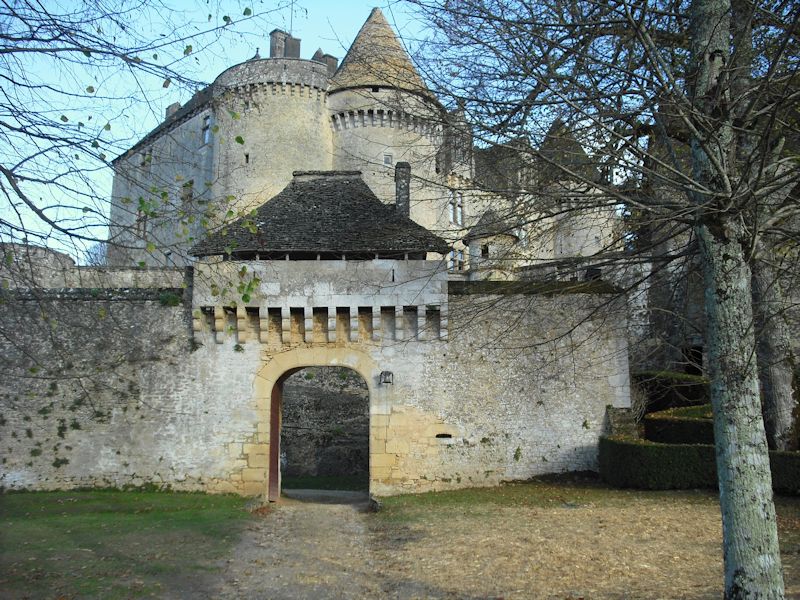 This outfit was run by the ancient family of Salignac, whose most famous son was François de Salignac de la Mothe Fénelon (1651-1715), a church-chappie who rose to become Archbishop of Cambrai, charged by the king with preaching the Protestants back into the Catholic fold, and royal tutor, but who landed in the soup after dabbling in Quietism and publishing "Adventures of Télémaque", critical of Louis XIV's government. But my acquaintance with the family comes from Bertrand de Salignac, sieur de la Mothe-Fénelon (1523-1589), who served ably as the French ambassador to the court of Elizabeth I of England, 1568-1575. He was born and raised right here!

Kristin perusing the historical plaques at the next main gate
Kristin at the 13th century chapel tower, sixth-sensing that there is a cute little kitty somewhere nearby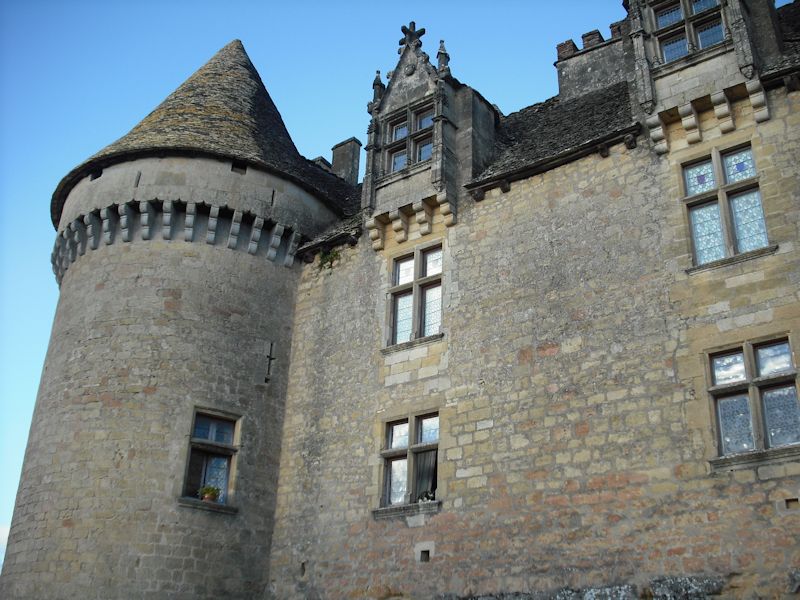 Round the side of the 13th century keep or donjon, with Renaissance windows in it, and a cat loitering in one of them. Kristin is always right about cats.
A cat that feels that it belongs here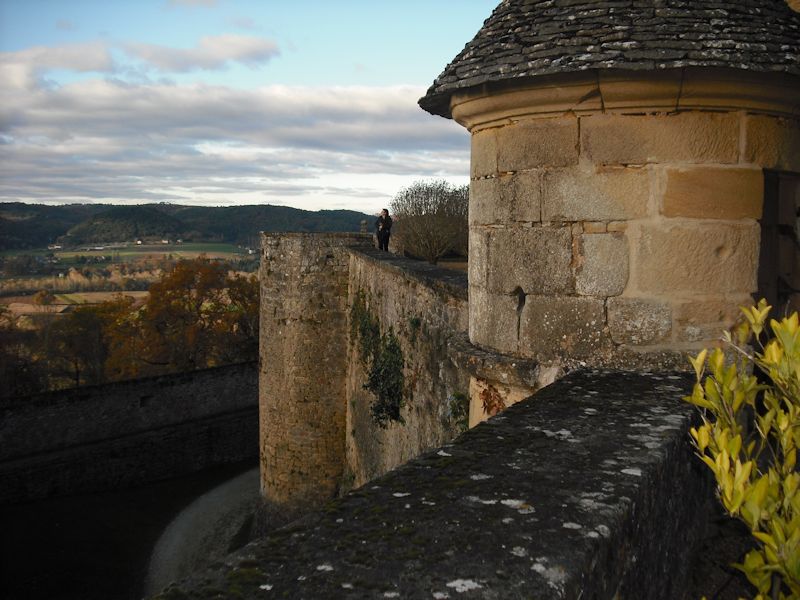 Kristin and medieval ambiance
The facilities. Look out below.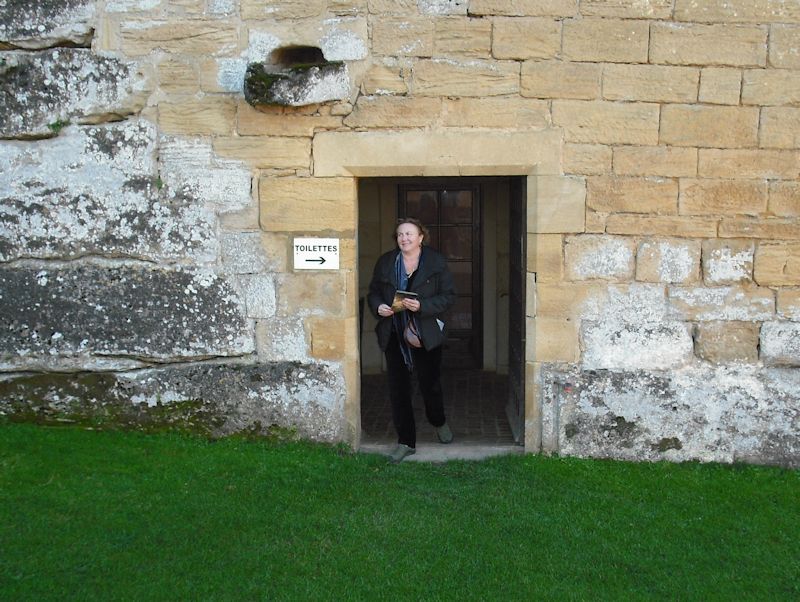 "Oh, don't ask."
The Renaissance front stairway, replacing an earlier drawbridge or something, with a gallery and terrasse above
By 16th century standards of comfortable castle living, it didn't seem so important that the knights should be able to ride their horses right into the diningroom, so this slightly more elegant entrance was laid on instead.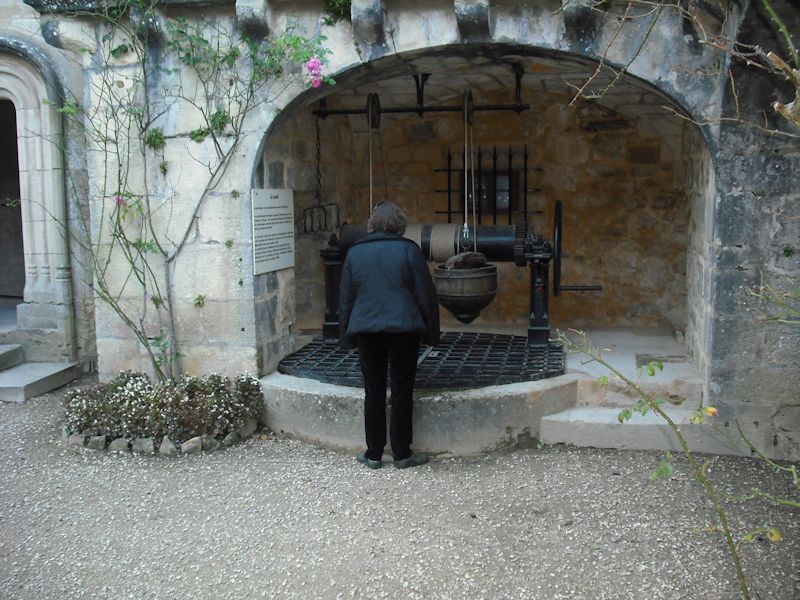 The origins of the whole thing -- a 90 metre well through rock down to groundwater, apparently hacked out in Merovingian times, in the 6th or 7th century, which made this an excellent place to build your stronghold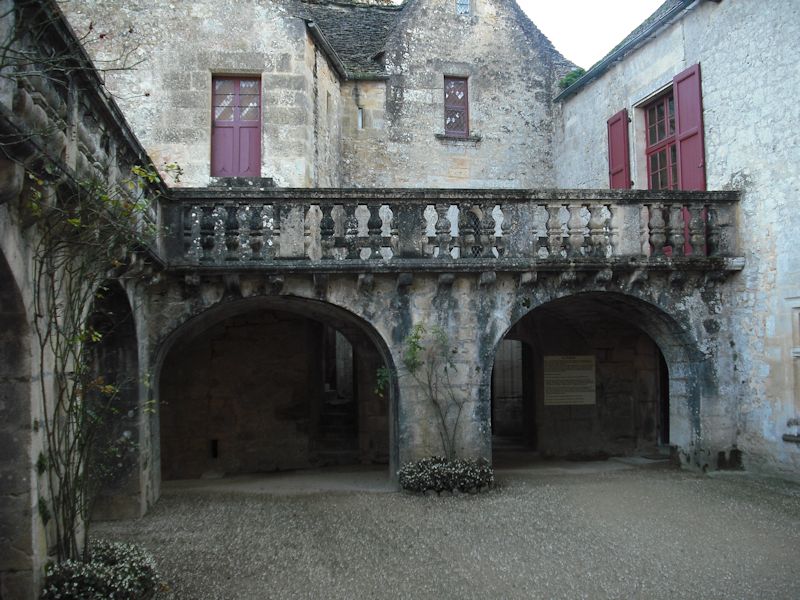 The Renaissance courtyard, with the terrasse above. No photos allowed inside, so we'll just stipulate that the kitchens are authentic-looking and informative, and that upstairs there's an interesting "curiosities room" (unicorns' heads, etc.) of the outlandish sort common in 18th century aristocratic houses, all the rooms very well furnished with period pieces.
15th century guard tower with tourist.
Where was that cute little kitty again?
Still in his or her window.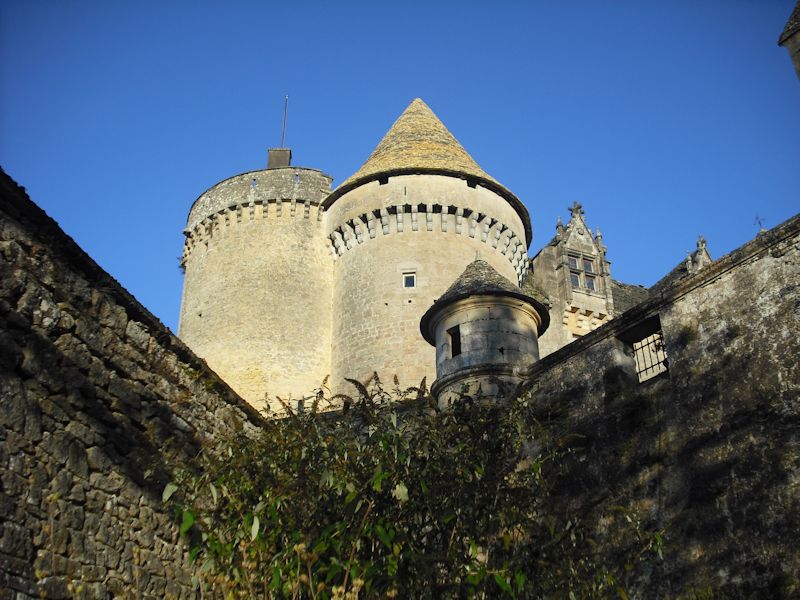 A beautiful castle -- an Excellent Castle! -- and probably impregnable in the days before RPGs.
It's been a long day -- Marqueyssac gardens, and then a dash to the Château de Fénelon. Just time for a nice dinner in Sarlat and then . . .
Next -- Tomorrow we're off to see Carcassonne
---

Feedback and suggestions are welcome if positive, resented if negative, Dwight Peck at
. All rights reserved, all wrongs avenged. Posted 21 December 2008.